The peanut roasting plant, as a part of an industrial peanut butter production line or peanut coating production line, is an automatic roasting machine with wide uses. It can also be called a nut roasting machine, fit for peanut as well as many other nuts, such as chestnut, almond, walnut, hazelnut, pine nut, pistachio, as well as beans and seeds, including sesame seed, melon seeds, sunflower seed, cocoa beans, coffee beans, broad beans, etc. In terms of heating methods, the peanut roaster uses electricity and gas. Peanut roaster machines have different models to meet customers' needs. The output of the peanut roasting equipment generally reaches 50-650kg/h, suitable for small and medium nut processing workshops, factories, snack stores, restaurants, and others.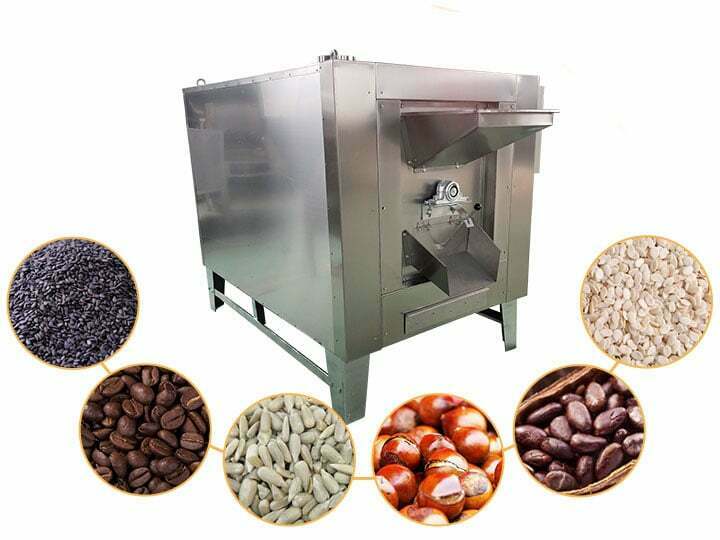 Video of Peanut Roasting Plant
How does the peanut roasting plant work?
The small peanut roaster machine adopts the advanced horizontal structure of the rotary drum. And the rotary drum can be heated uniformly without intermittence. As a result, the peanut roaster can provide a stable environment for roasting. Apart from it, we have installed a thermostat in the machine to adjust the temperature. Therefore, the advantage of the peanut roasting equipment lies in its temperature control, heat preservation, and automatic rotation.
After pouring raw peanut kernels into the inlet, the drum rotates continuously, during which the raw materials move up and down, left and right, back and forth, and fully stereoscopic baked. For electric heating, the temperature is generally 240-260 Celsius degrees; and gas heating is 220-240 Celsius degrees. The baking time is around 30 minutes. Once prepared, the peanut roasting plant discharges nuts out of the drum. No sticking phenomenon would come into sight. As a result, the baken foods, such as peanuts, sesame, walnuts, and almonds, have a nice appearance and flavor.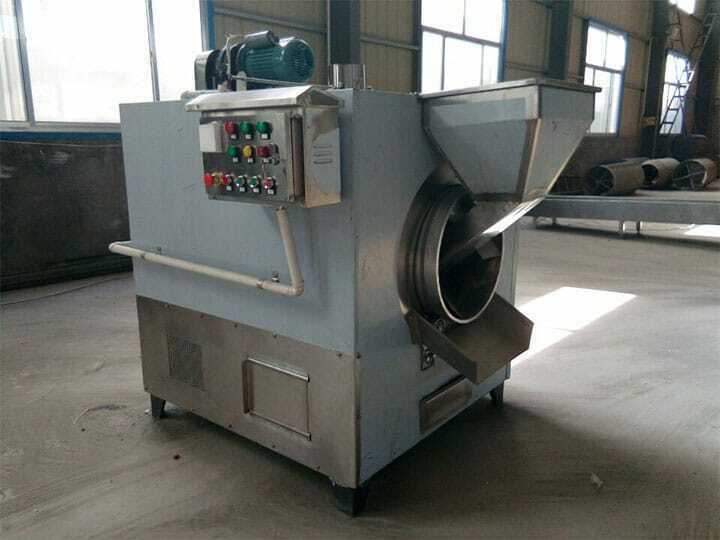 Structure of groundnut roasting machine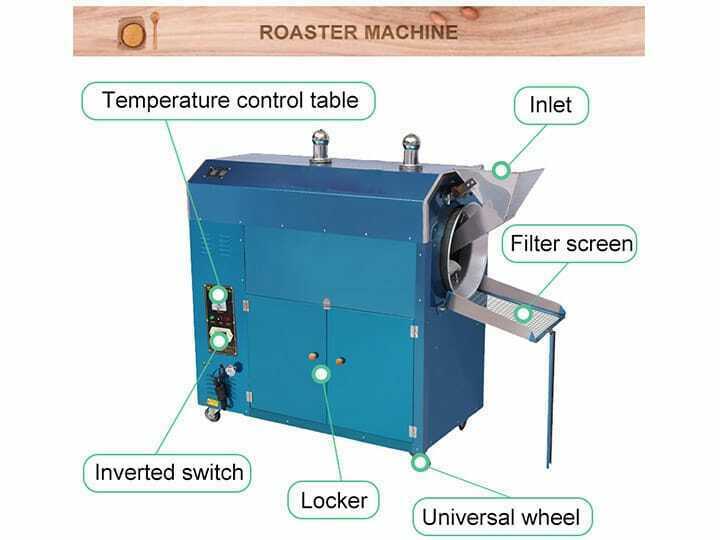 The peanut roasting plant mainly contains a hopper, outlet, frame, heat-conducting tubes, thermal insulation cotton, drum, motor, chain, transmission, and electric or gas control parts.
The drum has different specifications. For the general type, there are small meshes on it for heat dissipation. For small-sized materials, like sesame, the drum can be no meshes on it. The machine frame is filled with insulation cotton to preserve heat. The heating temperature is set on the temperature control table. The general roasting time is about 50 minutes per batch. When the time is up, the alarm sounds. A heat detector can be used to check the material temperature. The motor drives the roaster. The roasted materials can be discharged automatically through the outlet or by rolling the handle in the back of the machine manually in the opposite direction.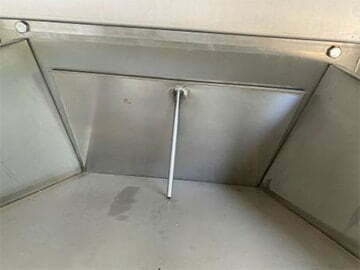 Peanut Roaster Machine Speciality
Uniform heating and heat preservation. The rotary drum structure can allow the materials to be heated evenly, and preserve heat, showing high thermal efficiency. The insulation cotton in the frame can reduce heat loss.
High roasting efficiency and productivity. The general output of the commercial peanut roasting plant ranges from 50kg/h to 650kg/h.
Diverse heating methods. Electricity or gas.
Energy-saving and labor-saving. The peanut roasting machine has temperature control, and a heat preservation design, which can save energy. One worker can handle the machine, so it is labor-saving.
Wide application: suitable for various dry fruits or nuts, beans, and seeds, like peanut, sesame, chestnut, walnut, melon seed, sunflower seed, cocoa bean, and coffee beans.
Clean and hygienic. The machine material is made of food-grade 304 stainless steel and it meets food safety standards.
Easy to operate and environment-friendly. The parts of the machine are reliable and durable. It does not produce dust, noise, or cause pollution.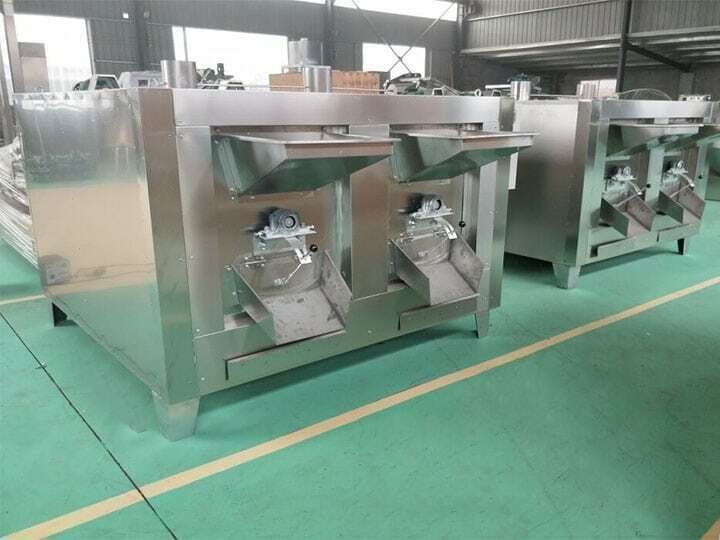 Parameter of Rotary Drum Peanut Roaster
| | | | | | |
| --- | --- | --- | --- | --- | --- |
| Model | TZ-50 | TZ-100 | TZ-150 | TZ-MHK—4 | TZ-MHK-5 |
| Voltage | 380V | 380V | 380V | 380V | 380V |
| Motor Power | 1.1kw | 1.1kw | 2.2KW | 4.4kw | 5.5kw |
| Capacity | 50kg/h | 100kg/h | 180-250kg/h | 380-450kg/h | 500-650kg/h |
| Dimension | 1850*1200*1600m | 2800*1200*1600m | 3000*2200*1700mm | 3000*4400*1700mm | 3000*5500*1700 |
technical data
The above table presents the general types of our peanut roasting plant. The more the rotary drum, the larger the outputs.
TZ-50 and TZ-100 with a capacity of 50-100kg/h are suitable for small-scale processing organizations. Because of cost-effectiveness, the two types are quite popular among our customers from Nigeria, Kenya, Zimbabwe, India, etc.
TZ-150 and others with larger output can be the choice of medium-scale users. If customers have special demand, our company can customize the machine.
Groundnut Roaster Maintenance Methods
Before use, fill each oil filler with engine oil, and regularly check whether there is a lack of engine oil.
Turn off the miniature circuit breaker when you stop the machine. If it is not used for a long time, remove all the residual in the drum after the shutdown of the machine.
When restarting the machine, operate the machine for 10 ~ 15 minutes without adding raw materials to check whether it operates normally.
The machine must be started when the heating is in progress.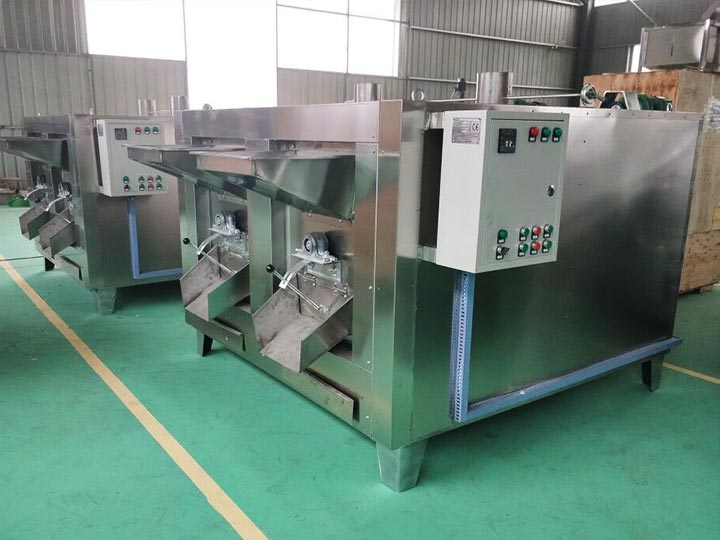 Payment of Peanut Roasting Equipment
When you make a purchase decision, our sales department will contact you first, providing full information on the item. We will give you a business invoice and a payment link after you have confirmed the type of peanut roasting plant. We will prepare the product for you after receiving your order and payment, and then deliver it to the specified port.
Delivery Details
Taizy machinery is an expert in manufacturing and exporting food machinery. Our customers have expanded to a great number of countries, such as the United States, Canada, Australia, Philippines, India, Nigeria, Kenya, Zimbabwe, etc. We provide dependable packaging and delivery services for product safety and have gained the trust of our customers. In most cases, we will supply a basic wooden export case. The hardwood trunk is a perfect size, and the packing material will keep the nut roasting machine from shifting. We would consider collaborating with a professional packaging firm if necessary.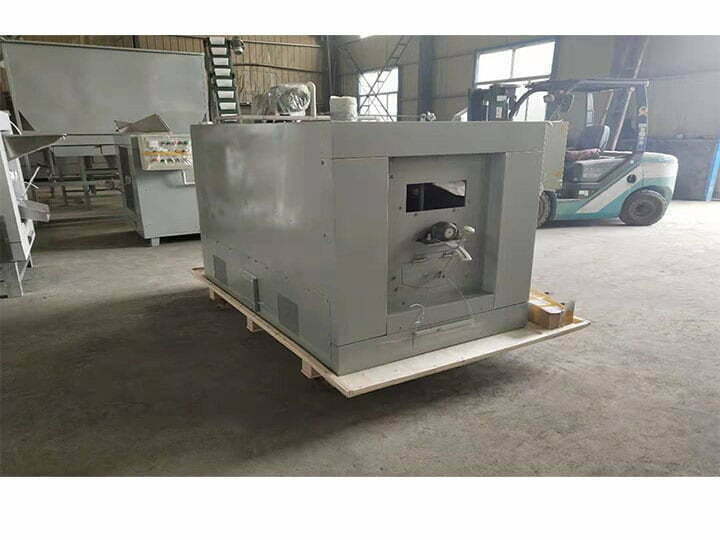 Other types of peanut roasters
Continuous peanut roasting machine
A continuous peanut roaster has large outputs up to 1000kg/h with automatic feeding and discharging. The continuous operation and high automation of the machine can save much energy and greatly improve work efficiency. Thus, this kind of chain roaster is often applied in large nut processing lines.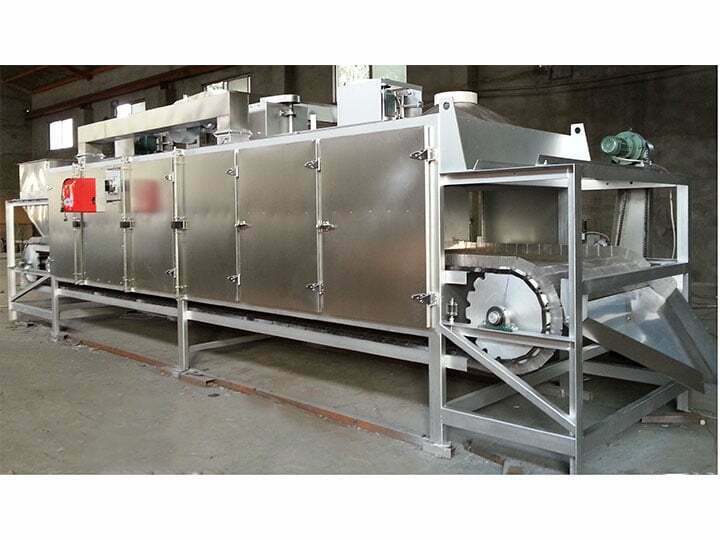 Swing oven for coated peanuts
The swing oven is often used to bake coated peanut snacks. The oven pan moves horizontally and smoothly, with materials rolling on it to realize even heating and avoid damage to materials. The smooth movement and uniform heating effect make it a perfect solution for roasting snacks with coatings.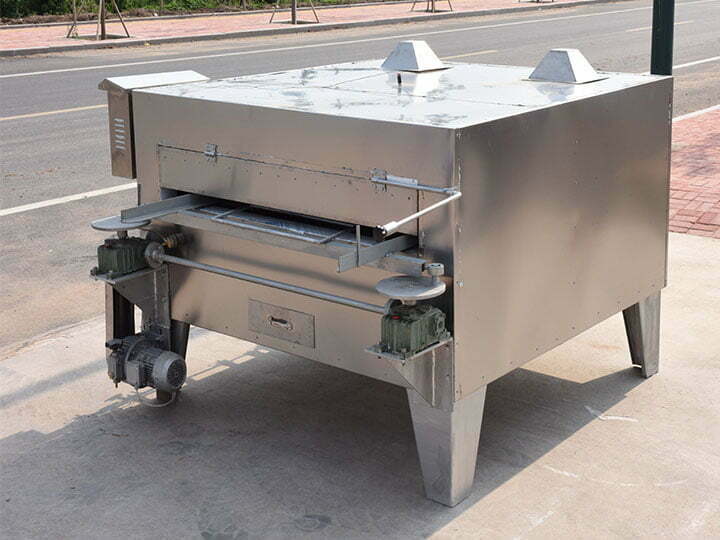 Export cases
Our company specializes in making and trading high-quality peanut machines with over ten years of experience. The peanut roasting plant is one of our best sellers and has been delivered to a large number of countries and regions. The following are examples of transaction cases. Our customers have installed the machines in their local places and got satisfied with the machines.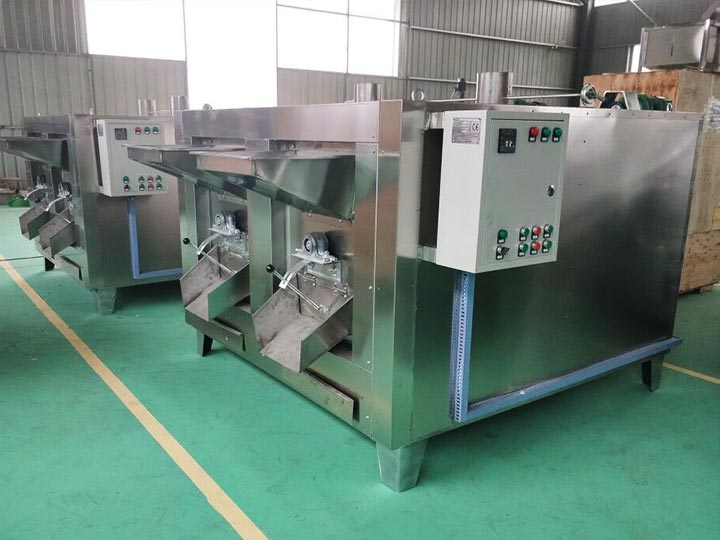 Multifunctional peanut roasting machine in Nigeria
Recently, we sold a peanut roasting machine to a Nigerian customer. He planned to expand his nut roasting business. We recommended our TZ-100 roasting machine with the output of 100 kg per hour to him and it satisfied his need.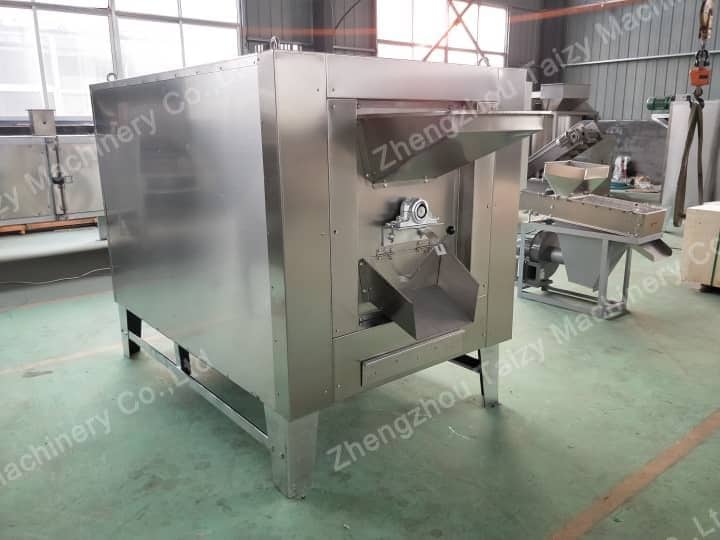 Peanut roaster brings our Zimbabwean customer sound profit
Syem, a Zimbabwean customer has purchased a groundnut roaster from our company and gave high recognition to our machine. With the help of this peanut roasting machine in Zimbabwe, his local nut roasting business brought him considerable income.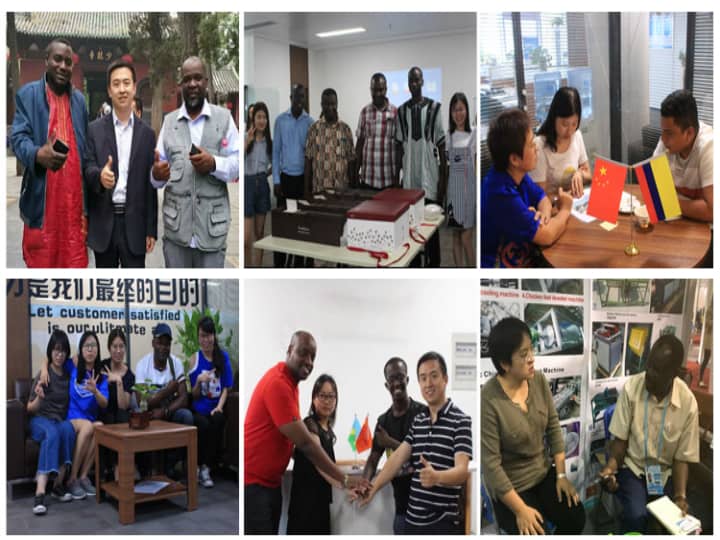 Other applications of the peanut roasting machine
For more detailed information about our products and services, please do not hesitate to contact us.