Chana roaster machine is professionally designed to roast quantities of chana, or chickpeas. The advanced structure of the rotary drum can realize even heating of various granular materials. The chana roasting machine has an automatic temperature control system and thermal insulation material, which can save energy and improve thermal efficiency. Either electricity or gas can be the heating source. After roasting, it is easy to discharge the materials. The output of the automatic chana roaster machine can reach from 50 to 1000kg/h with customized service available. The commercial chana roasting machine can be connected with a seasoning machine or deep frying machine in the food production lines and it is a piece of ideal equipment for small or medium nut processing plants.
Advantages of chana roaster machine
Wide application The chickpea roaster machine is also called nut roasting machine. It is suitable for roasting chickpeas, almonds, peanuts, chestnuts, cashew nuts, flax seed, sunflower seeds, tamarind seed, hazelnuts, walnuts, and other granular materials.
Uniform heating The materials in the rotary drum rotate with the drum and get uniform heating.
Controllable temperature and time. The automatic temperature system can contol the heating temperature. When the set time is up, an alarm device will make a sound.
High efficiency and various outputs. The capacity of the chana roaster can reach 1000kg/h or more. For specifice needs, we can provide tailored service.
Labor-saving and hygienic. The nut roaster requires just one worker to operate. The machine material is stainless steel, which is hygenic and easy to clean.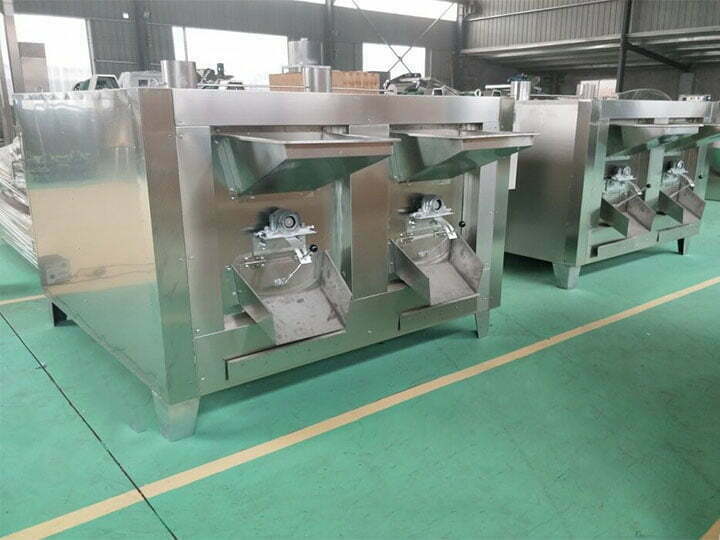 How does the chana roasting machinery work?
The chana roaster machine adopts the rotary drum, air convection conduction, and the principle of infrared radiation.
The heat generated by heating tubes roast the materials with infrared radiation and hot air convection, which realize good taste of roasted material.
The drum rotates constantly in the process of heating, so the material is heated evenly.
When it finish roasting, open the valve and the materials automatically flow out.
Technical data
Model:TZ50
Capacity:50kg/batch
Machine size:1.85*1.2*1.6m
Motor power:1.1kw
Heating power:16kw
Weight:500kg
Temperature: 0–300°
Model:TZ100
Capacity:100kg/h
Motor power:1.1kw
Heating power:18kw
Weight:600kg
Temperature 0 –300°
Model:TZ150
Size:3000*2200*1700mm
Capacity:180—250kg/h
Motor power:2.2KW
Heating power:35KW
Weight:1000kg
Temperature 0 –300°
Model:MHK4
Capacity:380—450kg/h
Machine size:3000*4400*1700mm
Motor power:4.4kw
Heating Power :60kw
Weight:15000kg
Technical parameter of chickpeas roaster machine