Cocoa beans (cacao beans) have rich nutrients, unique taste, and smell. Flavored foods and chocolate made from cacao paste are very popular in the world. Do you know how to make cacao paste? Our company offers professional cocoa paste making machines for many years, and the machinery has been one of the hot sellers in the market.
Introduction of cocoa paste
To get raw cocoa beans, one needs to peel the fresh fruit of cacao trees. Then, the raw cacao beans need to be fermented and dried for storage and further processing. To make the cocoa paste, people need to remove impurities in the beans, and bake, peel, and grind cocoa beans, so as to obtain cacao paste, which is also called cocoa mass. After cooling, the cocoa mass becomes a solid state, named cocoa liquor.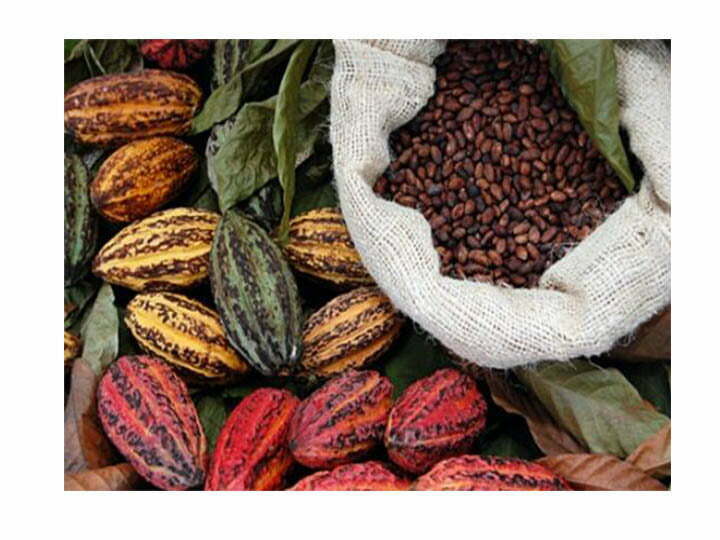 Cocoa paste production line
What machines are needed to make cacao paste in an automatic cocoa paste production line? Our cocoa paste making machinery mainly includes a cocoa bean roasting machine, a peeling machine, and a grinding machine.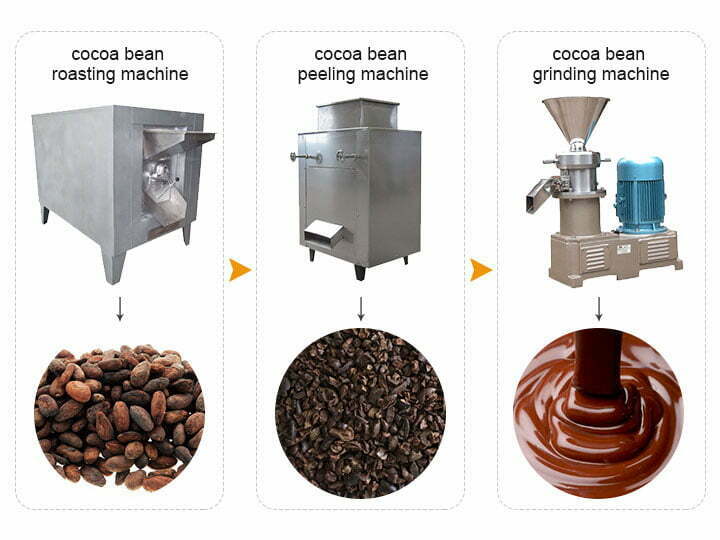 Cocoa bean roasting machine
Cacao bean roasting machine is a multipurpose roaster, suitable for roasting various nuts or beans, such as peanuts, walnuts, almonds, cashew nuts, cocoa beans, coffee beans, and sunflower seeds. The roaster is first used in cocoa paste making machines.
It adopts the advanced structure of a rotary drum, which can realize even heating. The heat source can be gas or electricity. The machine material is stainless steel and the machine parts are durable.
The temperature and roasting time are all adjustable. The temperature can reach up to 300 ℃. Besides, we have other types of roasters, including continuous roasting and cooling integrated machine.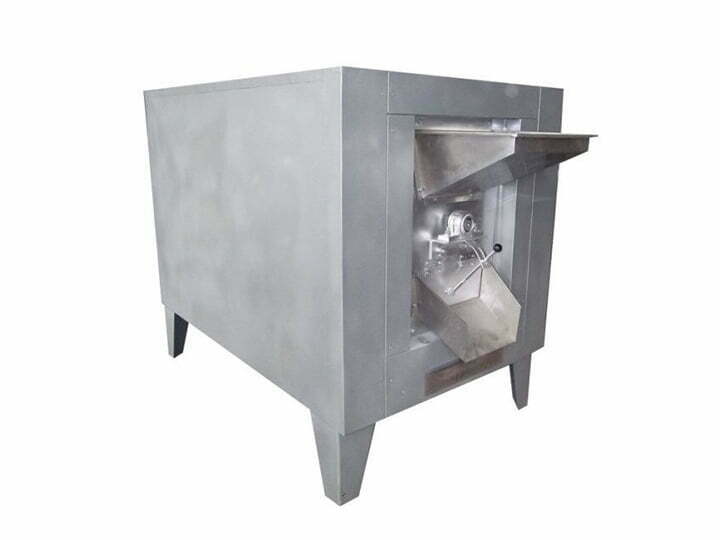 Cocoa bean peeling machine
The cacao bean peeler machine is the special equipment for shelling cocoa beans. The cocoa bean peeling machine is composed of a material box, a feeder, peeling rollers, a sieve, a dust collector, a fan, etc. After the cocoa beans enter the hopper, the machine peels off the shells with the rollers, and then the centrifugal fan sucks them out of the machine.
Thus, the well-peeled cocoa nibs come out from the discharge port. The peeling machine has the advantages of high output, high peeling rate (over 98%), and low noise. The general output is about 200-500kg/h.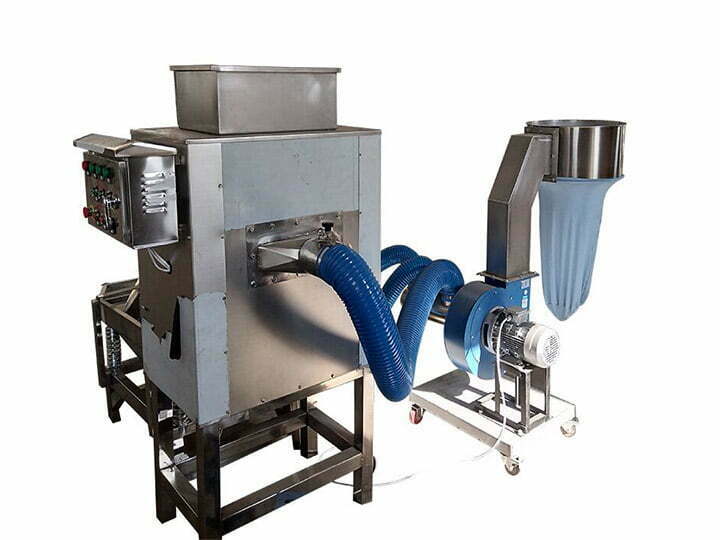 Cocoa nibs grinding machine
The cocoa bean grinder, also called the colloid mill, can grind peeled cocoa beans into a cocoa paste. The fineness of the material ground by the cocoa grinding machine can be adjusted. The basic working principle of a colloid mill is shearing, grinding, and high-speed stirring. The grinding relies on the relative movement of two parts, the rotor, and the stator.
The rotor rotates at high speed and the stator is stationary so that the materials passing between them are under great pressure and friction force. At the same time, the materials are effectively crushed under the action of complex forces such as high-frequency vibration and high-speed vortex. Cocoa paste making machine is applicable to the crushing of various materials in food, pharmaceutical, chemical, and other industries.
Typical parameters of cocoa paste making machines
| | | | |
| --- | --- | --- | --- |
| Machine name | Power | Dimension | Capacity |
| Cocoa bean roasting machine | 18kw | 3000 * 1200 * 1700mm | 50-500kg/h |
| Cocoa bean peeling machine | 0.75kw | 1200 * 1100 * 1200mm | 200-500kg/h |
| Cocoa bean grinding machine | 7.5kw | 750*450*1000mm | 300-1200kg/h |
Technical data of cocoa paste line
The above is just a small part of the cocoa paste machine models. We have various types and models of the relevant machines. Moreover, we provide customized services.
Supporting equipment of cocoa paste produstion line
In the fully automatic cocoa paste production line, it is needy to use a series of supporting equipment apart from cocoa paste making machines.
Automatic lifting and feeding machine
In fully automatic cocoa bean processing line, it requires several hoists between major machines to realize automatic lifting and feeding of raw materials, which is labor-saving.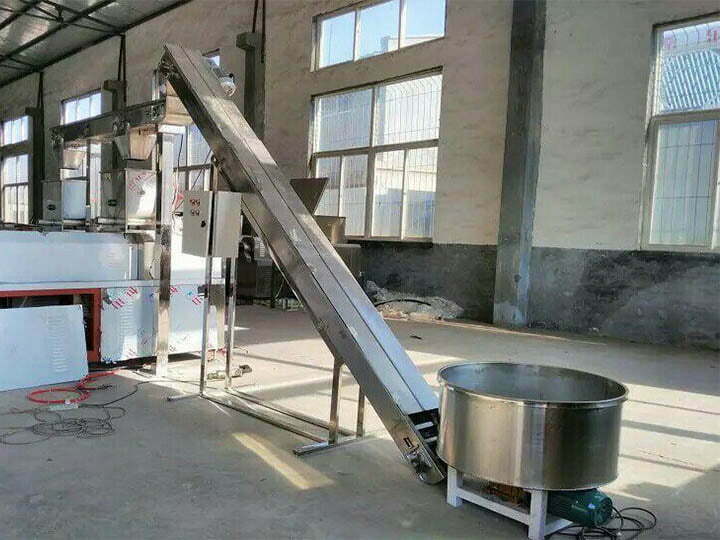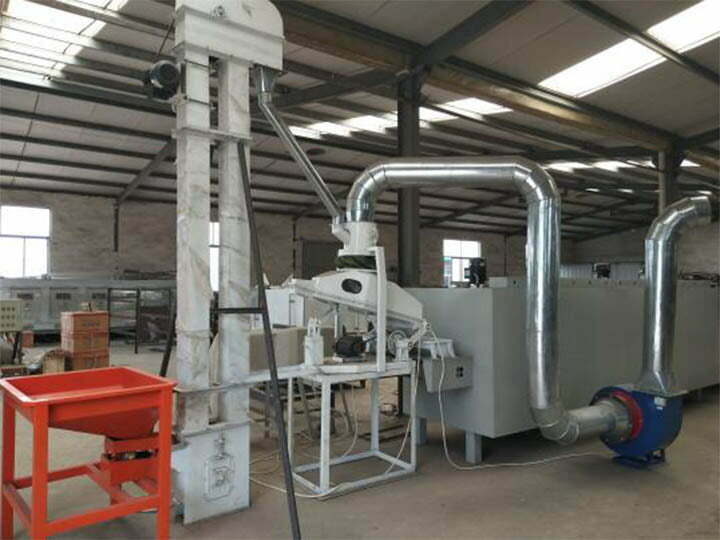 Impurity remover or destoner
In raw cocoa beans, there may be stones or other impurities, which may affect the function of the machines and the quality of products. Thus, an impurity remover is often placed before the roasting process in the cocoa bean processing line.
Rotary sieving machine
To get different grades of cocoa beans, it is necessary to use a rotary sieve. The cocoa bean sieving machine has various screens to classify the beans by size. The well-graded cocoa beans can be packed for selling or further processed to be ground cocoa beans.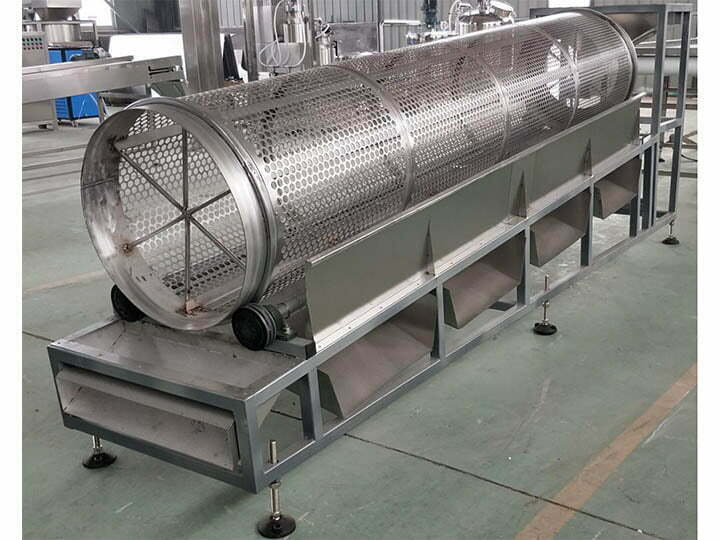 Video of the cocoa paste production line
Cocoa butter and cocoa powder
Besides cocoa paste, cocoa beans can be made to be other products, such as cocoa butter and cocoa powder. Cocoa butter is a milky yellow natural vegetable oil taken from cocoa liquor. Cocoa butter has a strong and unique flavor, which is mainly used to make chocolate.
Cocoa powder is the product of crushing cocoa butter cake. It can be used in high-grade chocolate, ice cream, candy, pastry, bread, etc. Our bone crusher and cocoa powder milling machine can be used to process cocoa powder.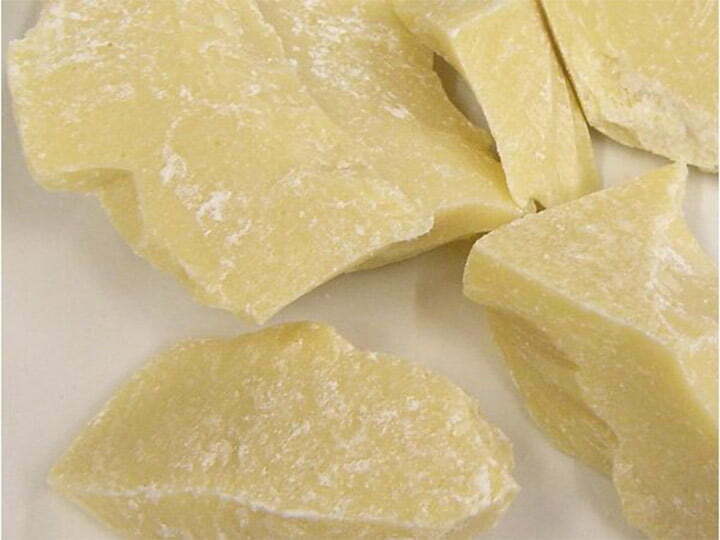 Cocoa powder production line
If you have any requirements for our cocoa paste making machines, welcome to get in touch with us.