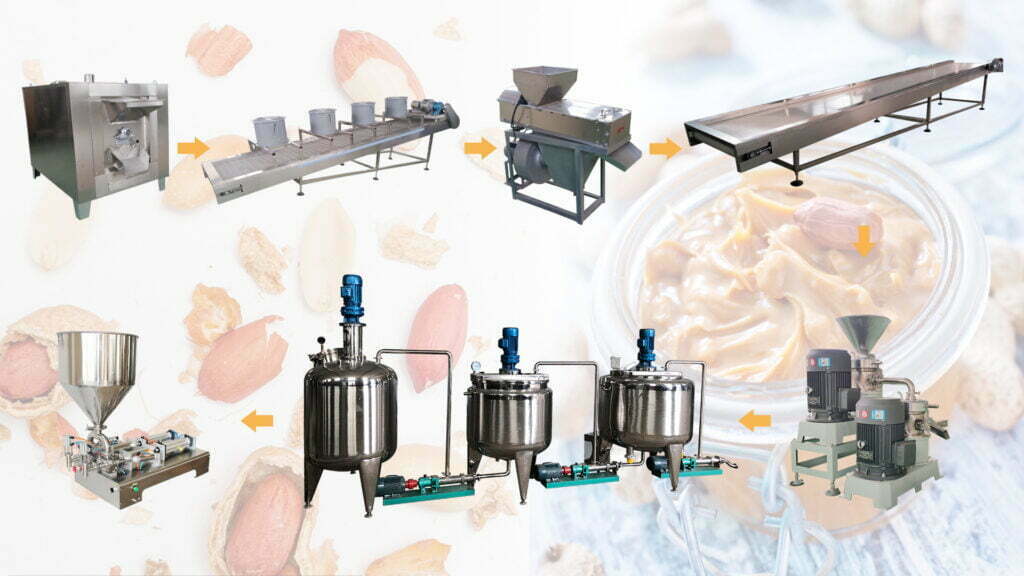 Peanut Butter Production Line is composed of the roasting machine, peeling machine, grinding machine, storage, mixing and vacuum tanks, and filling machine. It's a piece of automatic peanut butter production line. This production line is suitable for processing peanut, almond, sesame and other nuts. Related machines are made of 304 stainless steel. The whole series of peanut butter production line characterizes in full-automatic and labor-saving, high mechanization, high productivity and low wreckage rate.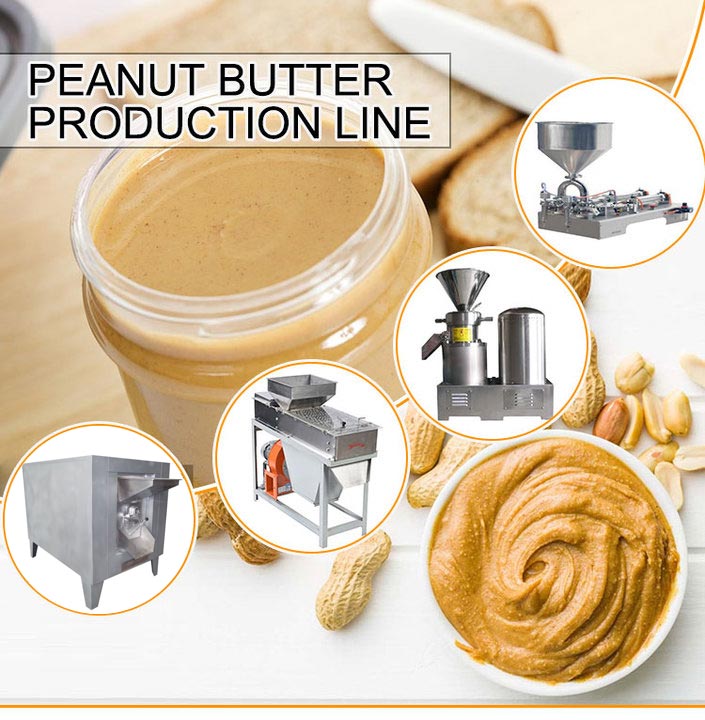 Process of Making Peanut Butter
Roasting—Cooling—Peeling—Selecting—Grinding—Mixing—Degassing—Filling

Step 1 Pour raw peanut kernels into the hopper of roaster machine for baking for a while until red skin dress of peanuts becomes crisp and light. The roasting machine will roll roasted peanuts out automatically.
Attention: Don't Over-Bake. In case the taste of peanut butter will be affected.
Step 2 Then grains will be transported to cooling belt and tiled for cooling so as to maintain and keep the original flavor of peanuts.
Step 3 Cooled crops will be peeled by peeling machine to get ride of red peanut skins. And unqualified or other materials will be excluded on the selecting belt.
Step 4 Grinding machine (colloid mill) will crush peanut kernels and butter will be stored in storage tanks.
Step 5 The butter will depart the storage tank and go through the steel pine to arrive in mixing tank. Here, butter meets seasonings to be more tasty.
Step 6 Vacuum tank will eliminate air and inhabits the growing of microbial. In this way, the shelf life is extended.
Equipment of Making Peanut Butter
Roaster—Cooling Belt—Peeling Machine—Selecting Belt—Grinding Machine—Mixing Tank—Vacum Tank—Filling Machine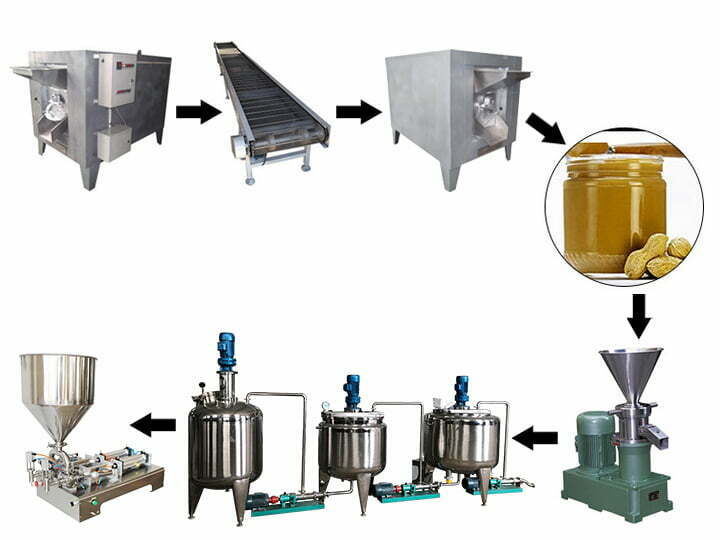 Introduction of Peanut Making Machines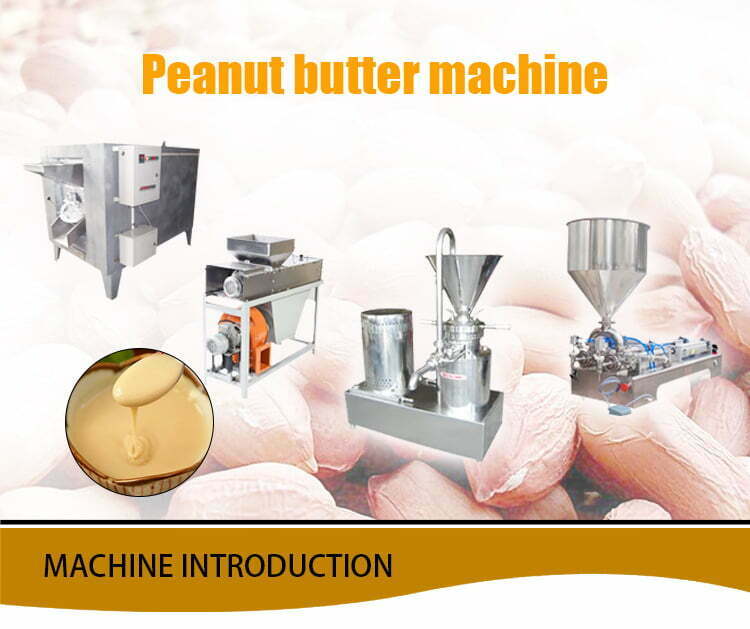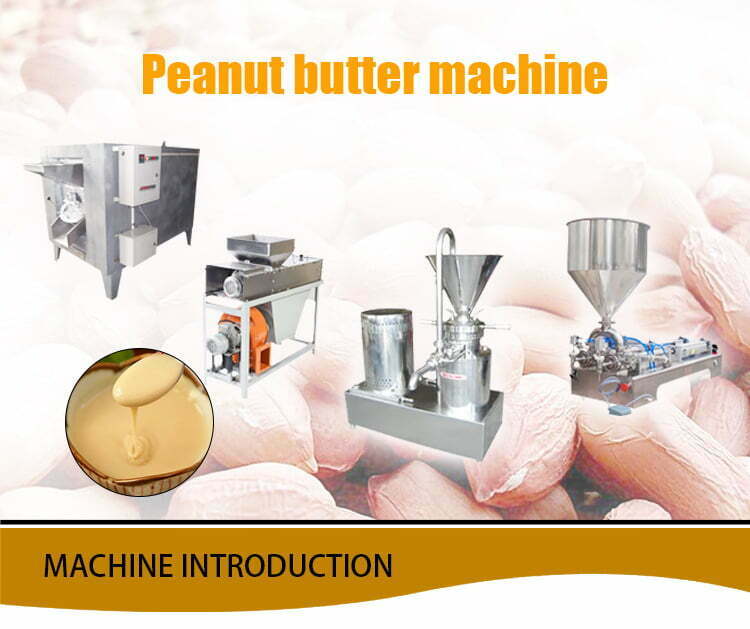 Peanut Roasting Machine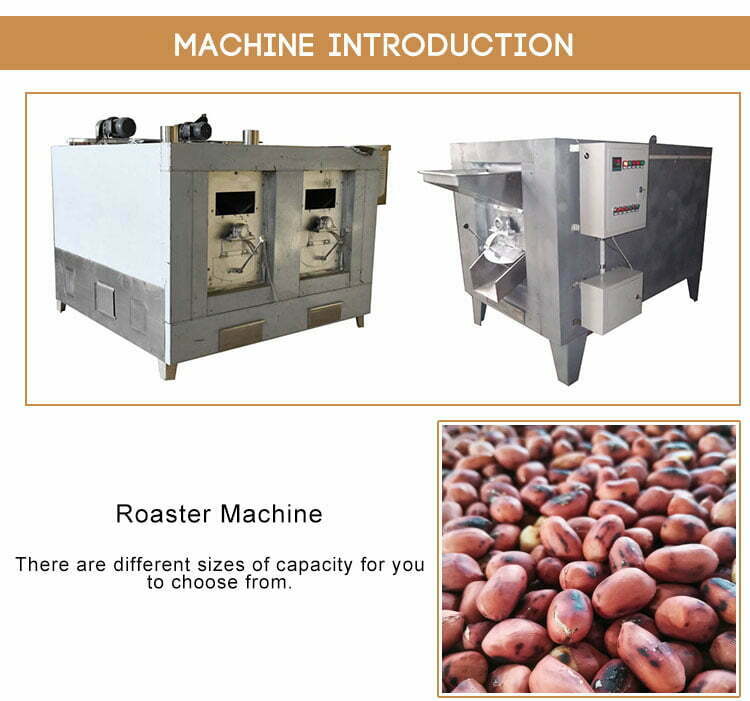 This peanut roasting machine is mainly used for baking peanut kernels. It has adopted the advanced structure of the drum. The technique is cutting-edged. There are two types of peanut roaster machines distinguished from making material. Stainless steel and carbon steel. A thermostat is installed to adjust the temperature, usually set at 160-230℃.
Working Principle
The drum roasting machine heats peanuts uniformly without intermittent. Operators pouring grains into the inlet and the drum rotates continuously. In the process, roasted food is up and down, left and right, front and rear, and fully stereoscopic stir-fry. The peanut roaster machine will push nuts out once finished. This machine is applied in baking nuts, almonds, and sesame.
Technical Parameter

Peanut Peeling Machine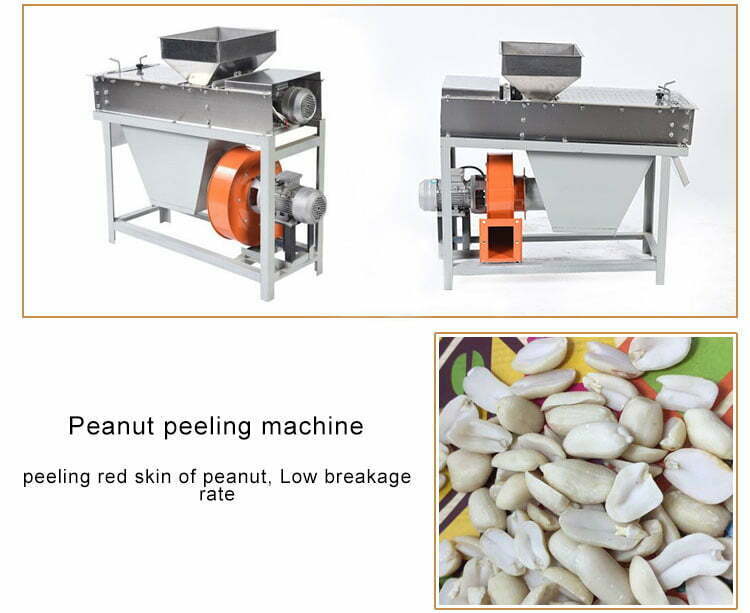 Peanut Peeling Machine is a piece of equipment for removing red peanut skins. Peeler is able to process peanuts with different specifications. Our company has specialized in producing horizontal machines made of high-quality materials. There are two types of peeling machines. They are dry type peanut peeling machine and wet type peeling machine. Peeling machines can cope with soybeans, nuts, peanuts, and almonds.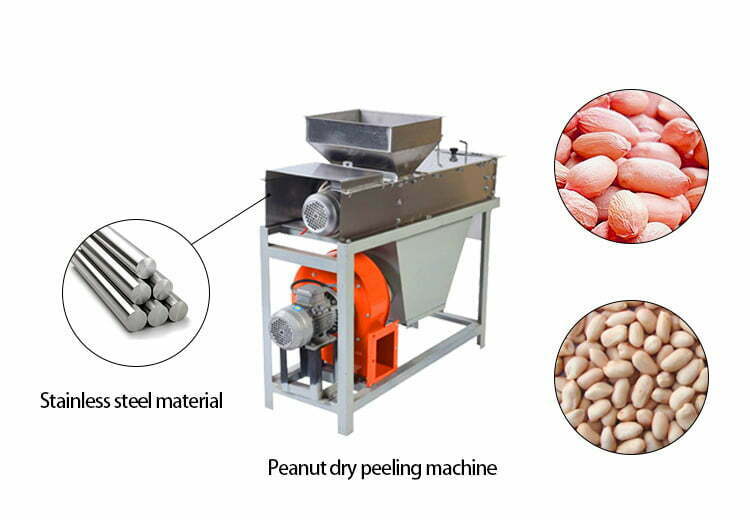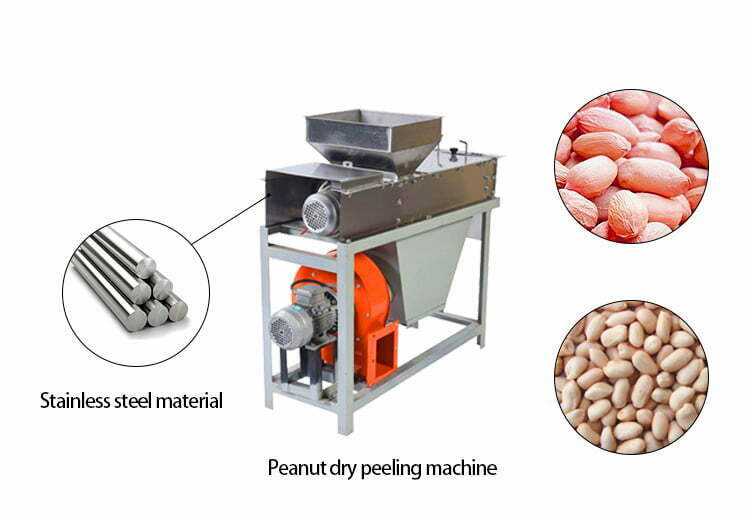 Working Principle
Peanut peeling machine consists of the power device(electric motor, belt pulley, belt and bearing, etc), frame, feeding, inlet, peeling roller, suction fan, etc. .his machine is equipped with the exhaust system and vibrating screen. When the peanut peeling machine works, it rolls and transmits with friction at different speeds. When the moisture of roasted peanuts is less than 5%(in case of burning), the best time for peeling is already. At such a time, the exhaust system in the peeler will suck red skins of peanuts away. The vibrating screen removes the peanut bud. As a result, the peanut kernel is divided into two parts evenly.
Technical Parameter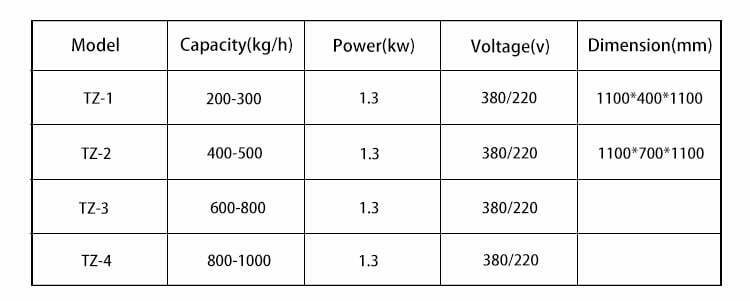 Peanut Butter Grinding Machine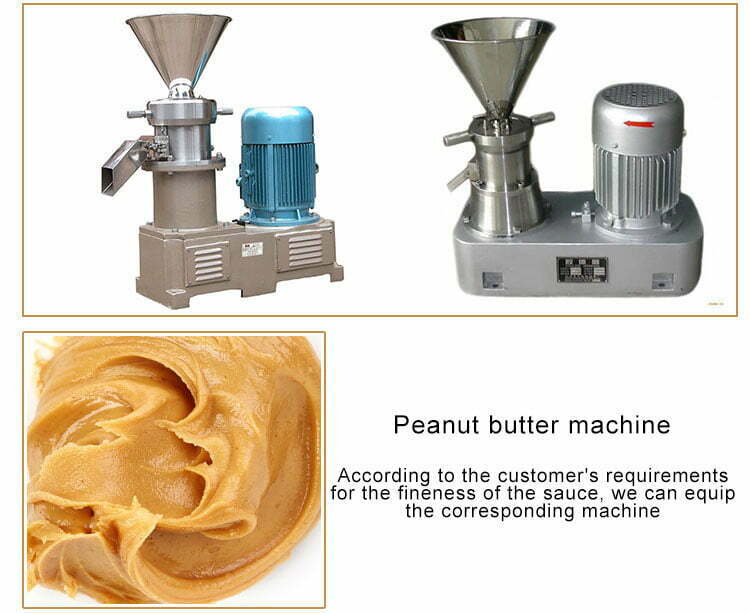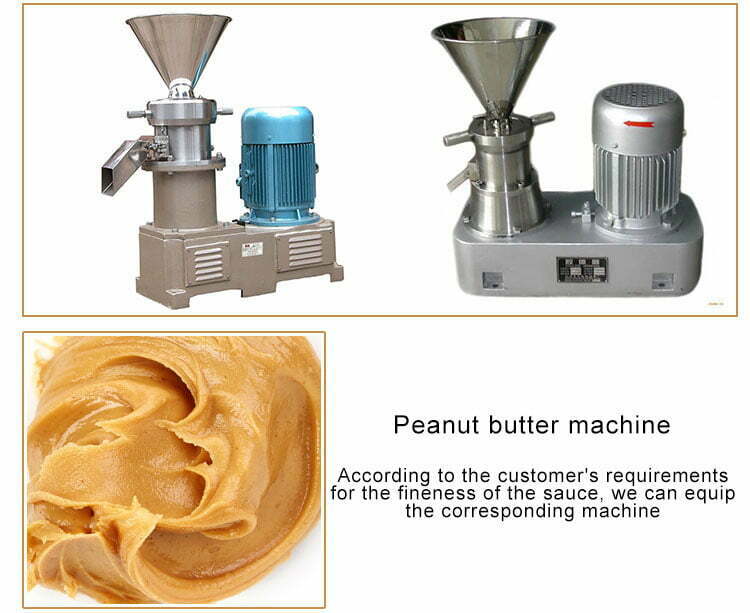 Peanut grinding machine is universally applied in the food industry, chemical industry, daily chemistry, pharmaceutical industry, and construction industry. This machine is able to crush, emulsifying, and comminute. Therefore, the peanut butter grinding machine is a piece of equipment for the fine grinding of fluid and semi-fluid materials. Grinder machine processing a wide range of grains such as ice cream, fruit juice, sesame butter, essence, jam, milk, all kinds of beverage, etc. In this series of peanut butter grinding machine are there different devices. Peanut butter grinder machine is composed of 130-type stainless steel, semi-stainless steel and semi-steel colloid mill. Horizontal milling machines(grinding mill machine) are exported to countries around the world, such as the Philippines, India, Kenya and South Africa.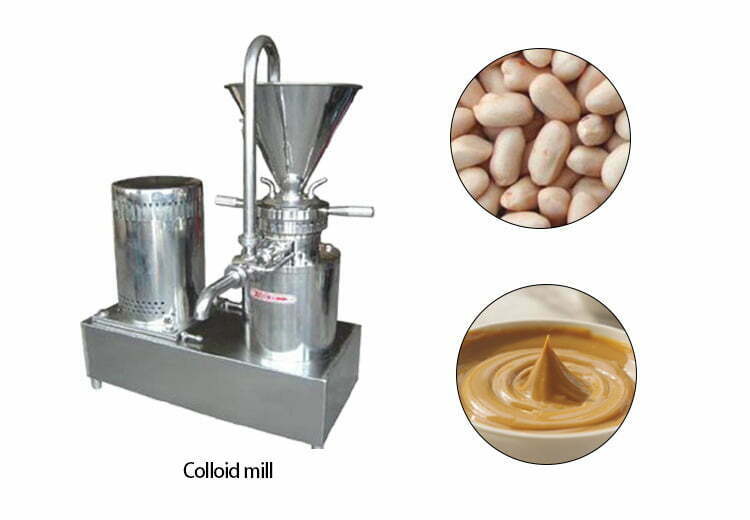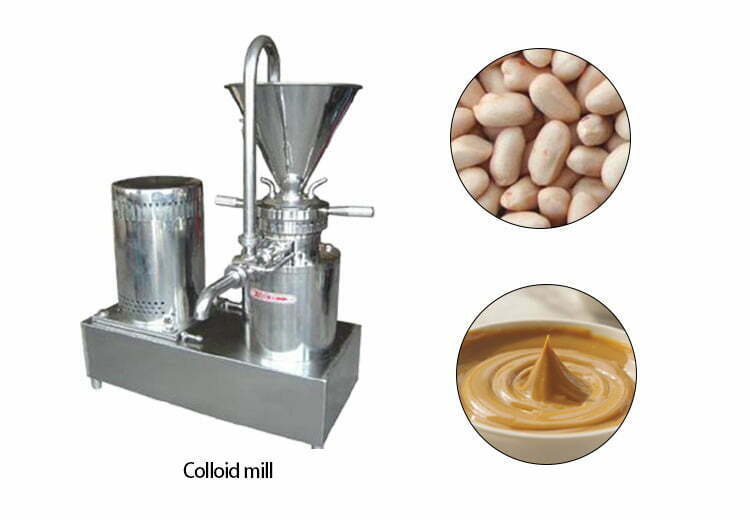 Working Principle
The colloid mill involves in shearing, grinding and mixing at pretty high speed. When the electric motor begins, it drives the whole grinder. There are two grinding discs inside the machine. Of them two, one rotates at high speed while the other at rest. When stator and rotor move relatively at high speed, crops flow into space between them and are crushed. Due to high-frequency vibration and high-speed vortex and other complex forces, materials can be effectively ground, emulsified, pulverized, dispersed and homogenized.
Technical Parameter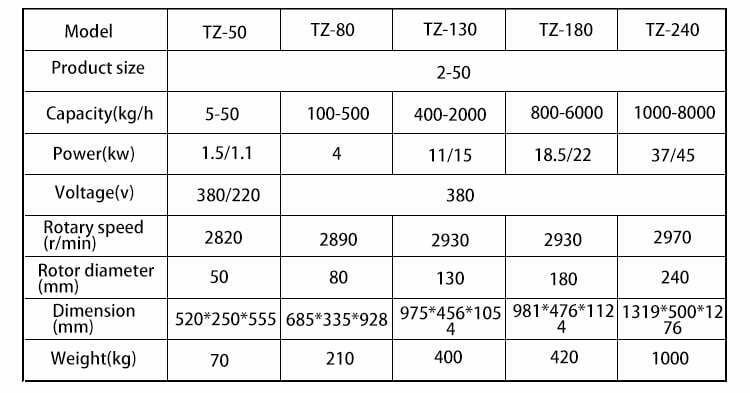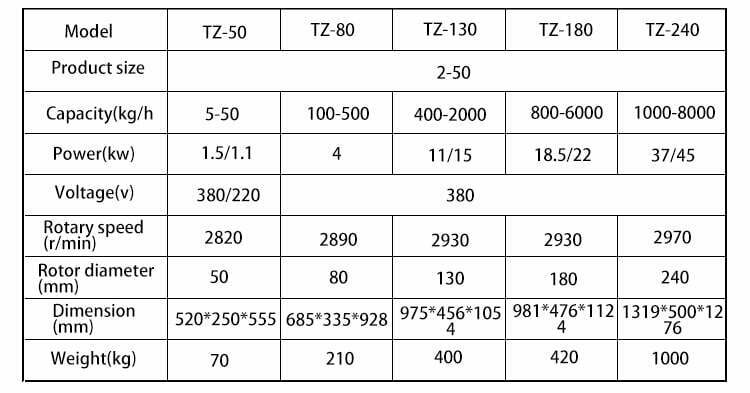 Peanut Storage, Mixing and Vacumm Tanks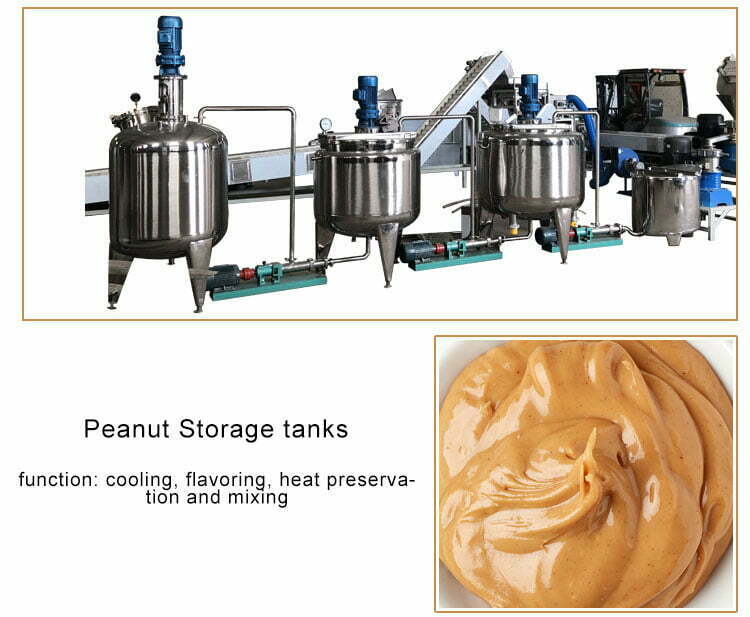 Peanut mixing tank is a piece of equipment used for blending, heating, emulsifying, and mixing raw materials in the industry. The making material is stainless steel. The mixing machine is universally applied in the coating industry, pharmaceutical, medicine industry, architectural industry, chemical industry, and scientific and technological industry. The mixing tank is composed of a mixing tank body, mixing tank cover, agitator, support, transmission device, shaft seal device, etc.
Peanut Butter Filling Machine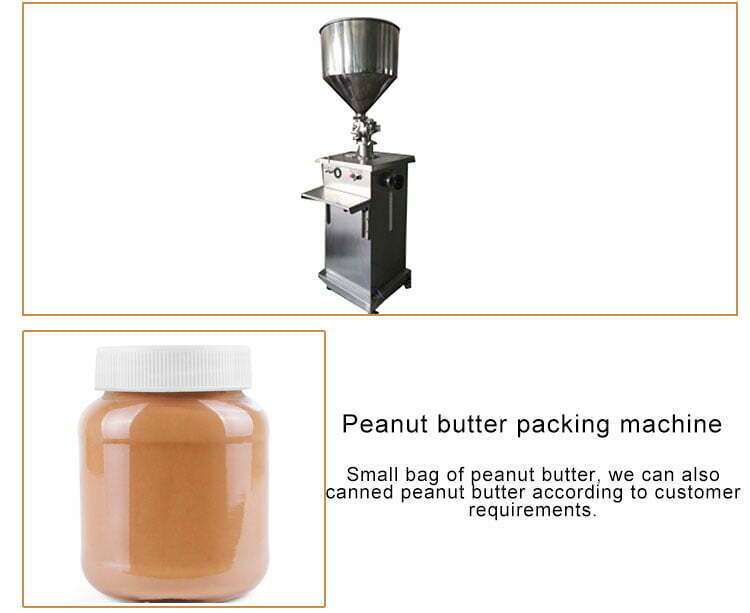 Peanut filling machine is for packing and packaging butter. But its use has extended to many products as well. Paste filling machines are also suitable for filling paste, jellies and jams, especially highly viscous paste. The driver of this filling machine is compressed air. It's made of 304 stainless steel. Packaging container varies from bags, bottles, cans, pouch and stand-up pouch.
Working Principle
This filler employs a volumetric method to measure and adjust the paste quantity at a time. Therefore, it's also a piston filling machine. This machine is with a self-priming cylinder where a piston exists and runs. The piston is playing within the cylinder at a moderate speed. The diameter of the piston and the way it runs from head to foot determines filling material quantity and volume. So that volume remains constant and stable every time. The piston moves back and forth to fill paste into various containers.
Structure of Peanut Production Line

Roasting Machine
Cooling Belt
Peeling Machine
Picking Belt
Grinding Machine
Gear Pump
Storage Tank
Paste Pump
Mixing Tank
Vacuum Tank
Filling Machine
Advantages of Peanut Butter Production Line
Main parts of al machines are made of 304 stainless steel. The making material meets the quality and health standards.
Peanut production line is matured so far. For each machine involved, there are multiple uses not only for processing peanuts.
High productivity and high efficiency The output capacity reaches 100kg per hour.
Customization Size information is detailed and we offer customization services.
Multiple advantages. This automatic production line is labor-saving and time-saving. We provided all-round after-sale services from pharchase to use.