The coated peanut roaster machine is mainly used for baking coated peanut snacks, like burger snacks, sugar-coated peanuts, caramel-coated peanuts, toffee-coated peanuts, flour-coated peanuts, fish-skin peanuts, and other granular coated foods in the coated peanut production line. The swing oven is also applicable to the baking of various nuts, including pistachios, cocoa beans, cashew nuts, etc.
The automatic coated peanut roasting machine has the features of high productivity, even heating, low breakage rate, and no pollution. The raw materials baked in the swing oven have a smooth surface and the original color. Thus, it is the ideal equipment for baking coated peanuts, nuts, and other granular foods. The heating source of the automatic coated peanut baking machine can be electricity and gas.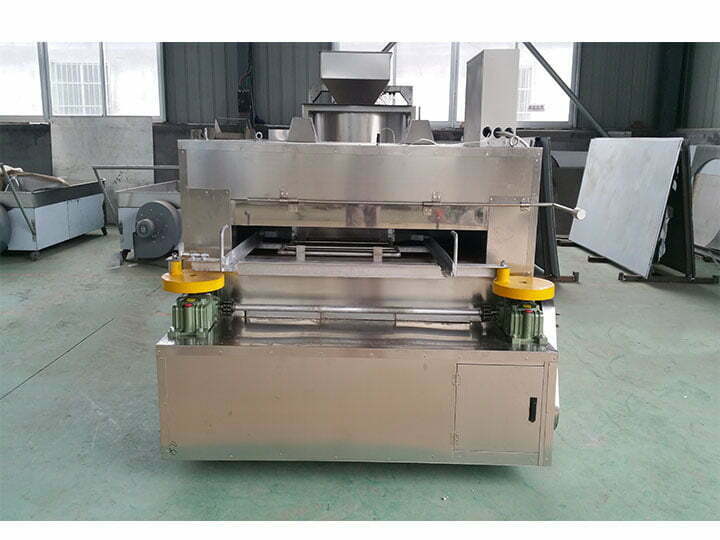 Working process of coated peanut roaster machine
The plane rotary swing oven can mix the raw material while heating. Equipped with an automatic temperature control device, the coated peanut roaster can reach the set temperature and keep a high insulation effect.
After starting the swing-type peanut roaster machine, people need to pour the raw material into the baking pan. The large type of swing roaster machine has an automatic lifting and feeding system, which can automatically pour the raw materials into the baking tray.
Then, the oven pan moves left and right at a constant speed with the raw materials rolling on it. The baking tray moves from side to side in the heat zone. Roasted peanuts can be evenly heated and achieve the desired roasting effect. When the time is up, open the valve, and then the swing baking oven discharges the roasted peanuts.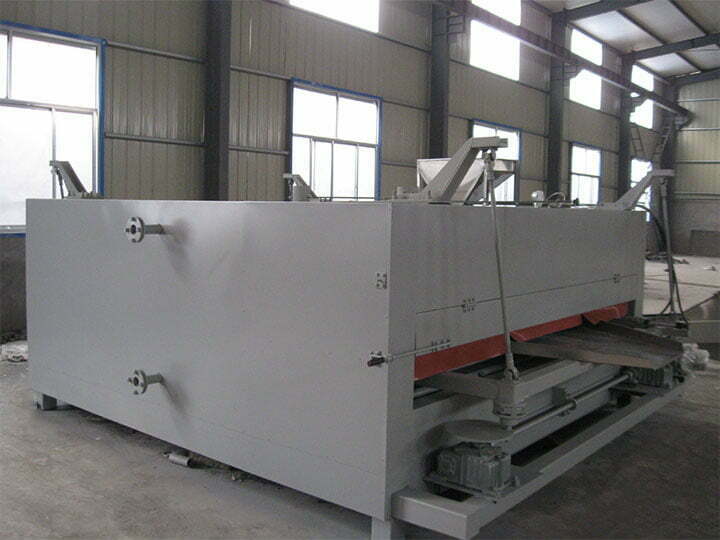 Coated peanut baking oven highlights
High productivity and low breakage rate.
The general capacity can reach 80-300 kg/h. For specific needs, we can offer customization services.
Good fuel efficiency, and energy-saving.
The swing oven has a digital temperature controller, which can realize automatic temperate control and high insulation performance.
Multiple heating methods.
Electricity, gas.
Due to even heating, the final products have uniform color and smooth surfaces.
Highly automatic and labor-saving.
Automatic feeding and discharging, one-person operation.
Easy to operate and maintain.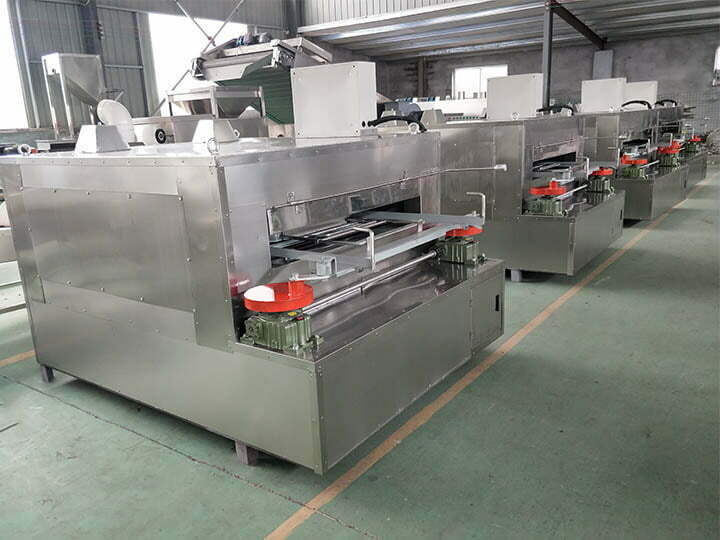 Parameters of coated peanut roaster
| | | |
| --- | --- | --- |
| Model | TZ-YBKL150 | TZ-YBKL190 |
| Voltage/Frequency | 380V/50HZ | 380V/50HZ |
| Power | 25kw (5-10m³) | 70kw (15m³) |
| Temperature | 180-220℃ | 180-220℃ |
| Size | 2.2*2*1.5m | 3.5*3*1.9m |
| Capacity | 80-100kg/h | 200-300kg/h |
| Swing times | 40-60/min | 40-60/min |
Technical data
Working video of automatic coated peanut roaster machine
Being a leading swing-type coated peanut roaster provider, we offer high-quality machinery at competitive prices and the best services for each customer. If you need more information about our product, we'd like to know your requirement.
Typical export case
Peanut swing roaster sold to Nigeria
Other application