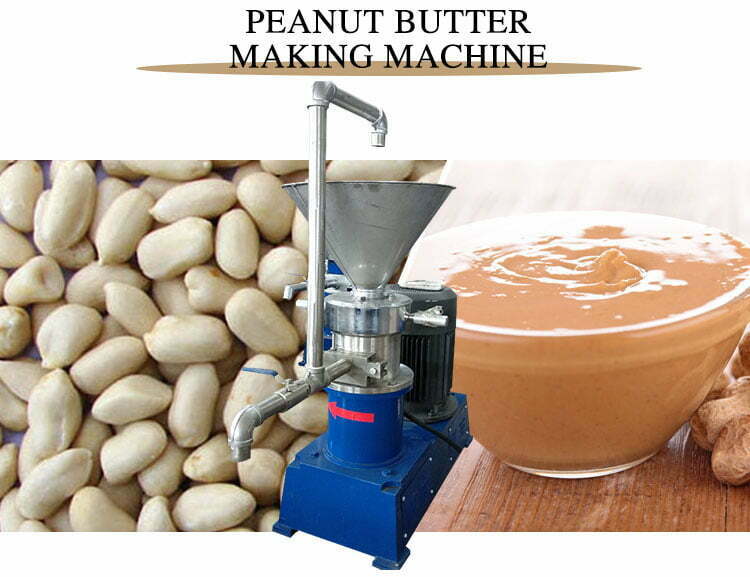 In the world, there have been a large number of peanut butter lovers in the world. People begin to know more about its health benefits. Making a bottle of peanut butter has a series of steps. In the food processing industry, it is popular to use high-quality peanut butter making machines to meet customer's demands.
Introduction of Peanut Butter Grinder Machine
A peanut butter grinder machine, or a peanut butter making machine, is an important part of the peanut butter production line. It is specially designed for grinding peanuts and sesame. Also, the equipment is suitable for processing various nuts, like almonds, cashews, cocoa beans as well as vegetables and fruits, including peppers, tomatoes, strawberries, pineapple, etc. The final peanut butter is featured with fine texture, smooth taste, and good color. The butter grinder machine has wide applications in the food industry, chemical industry, etc. A peanut butter grinding machine is a device for the fine grinding of fluid and semi-fluid materials. To meet higher fineness and outputs, we also offer the type of combined peanut butter machines.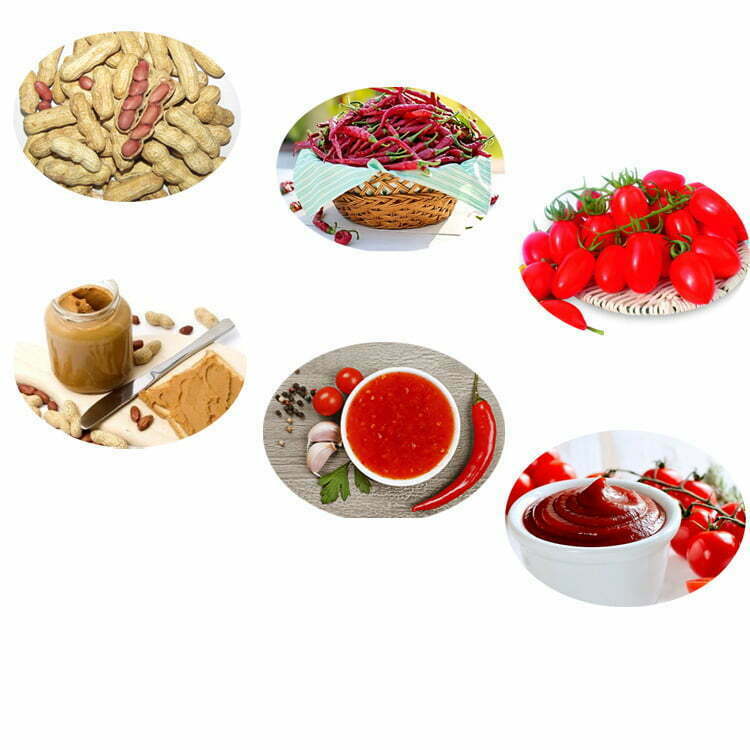 Our company has taken advanced technology and made horizontal peanut grinder machines. The rotation speed of the peanut grinder can be switched. So it does well in processing a wide range of foods, such as aloe, ice cream, moon cake stuffing, butter, jam, as well as beverages like fruit juice, soybean milk, dairy products, etc.
We provide customers with a peanut butter milling machine and a stone grinding machine. The peanut grinding machine is of high quality and the price is competitive. Our peanut grinders are popular among peanut butter making plants, individual peanut butter merchants, as well as farmers, farming peanuts. Horizontal milling machines (grinding mill machines) are exported to countries around the world, such as the Philippines, Nigeria, Zimbabwe, India, Kenya, and South Africa.
Various Application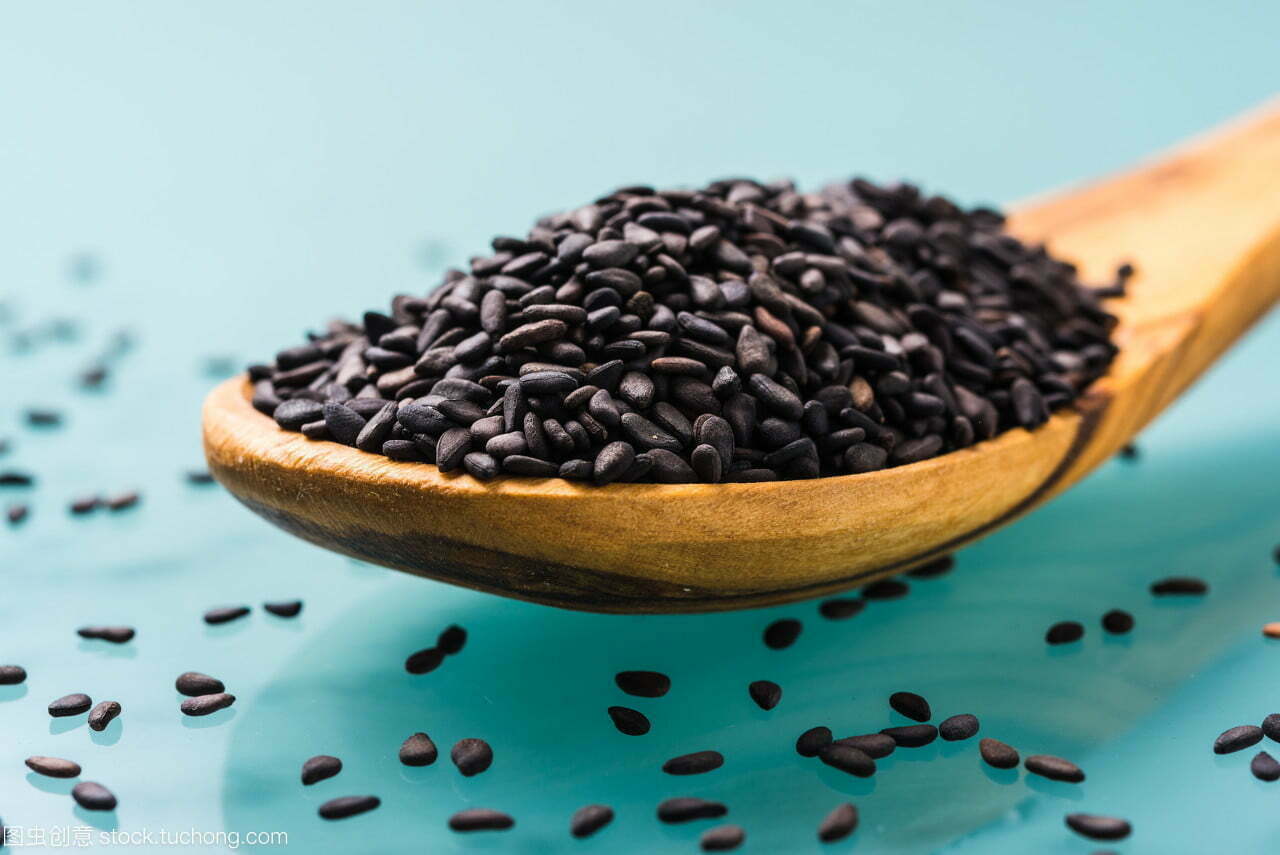 Working Principle of Peanut Butter Grinding Machine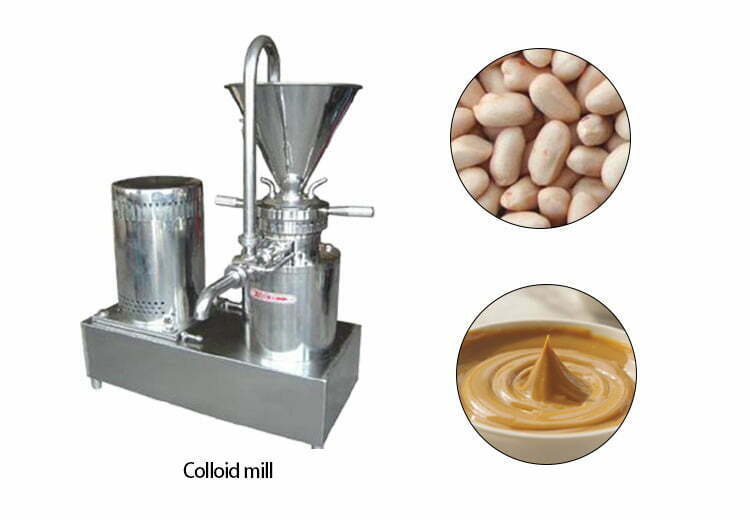 The operation of a peanut grinder involves shearing, grinding, and mixing at high speed. When the electric motor begins, it drives the whole grinder. Then workers feed raw materials (like raw peanuts) into the hopper. There are two grinding discs inside the machine. One rotates at high speed while the other at rest. When stator and rotor move relatively at high speed, raw materials flow into space between them and are crushed. Due to high-frequency vibration, high-speed vortex, and other complex forces, materials can be effectively ground, emulsified, pulverized, dispersed, and homogenized.
There are three grinding zones in the crushing chamber, the coarse grinding zone, the fine grinding zone, and the ultra-fine grinding zone. By adjusting the gap of the stator and rotor, it is possible to achieve the required ultra-fine crushing (also can be cycled) at one time.
Technical Parameter of Peanut Butter Colloid Mill
| | | | | |
| --- | --- | --- | --- | --- |
| Model | JM-50 | JM-85 | JM-130 | JM-210 |
| Fineness (mesh) | 120-150 | 120-150 | 120-150 | 120-150 |
| Motor power (kw) | 1.5 | 5.5 | 7.5 | 30 |
| Capacity ( t/h) | 0.2-0.8 | 0.2-4 | 0.2-6 | 2-6 |
| Rotary speed( r/min) | 3000±100 | 3000±100 | 3000±100 | 3000±100 |
| Dimension(cm) | 50*23*70 | 105*30*84 | 127*38.5*102.5 | 120*50*130 |
| Weight (kg) | 60 | 185 | 240 | 600 |
Technical parameter
Features of the Structure
The Structure of Peanut Butter Milling Machine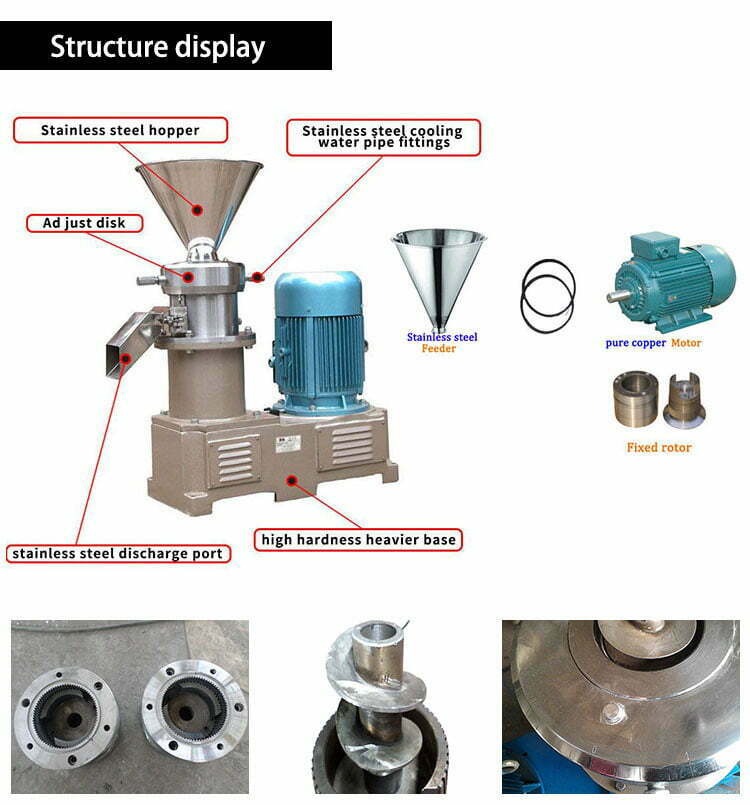 Stock Display
Collid mill Stone mill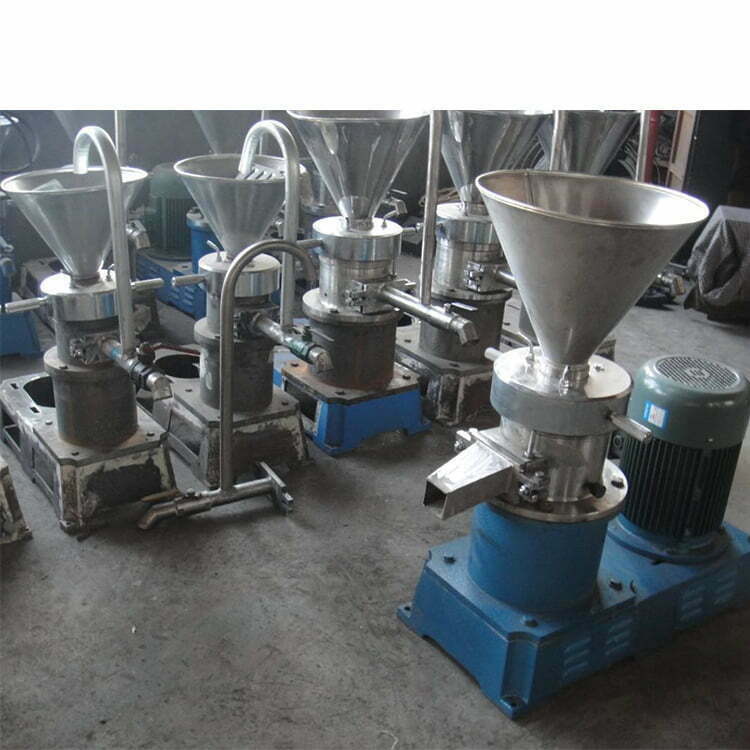 Types Display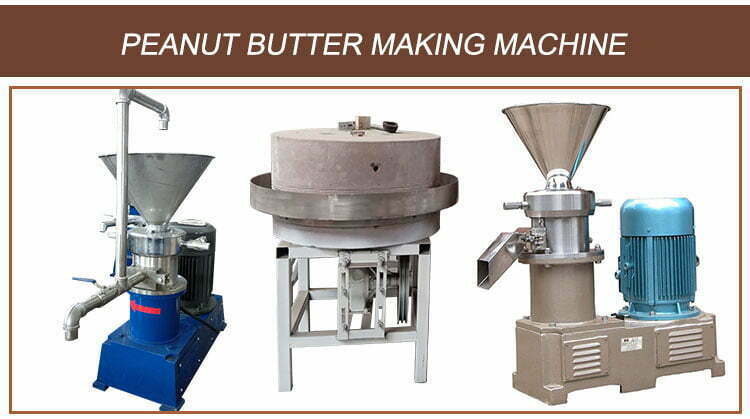 How to Use the Peanut Butter Grinding Machine?
1. Install the device on the flat concrete foundation and fix it with the foot screw (if necessary)
2. Check whether all the fastening screws are tightened.
3. Before use, turn the rotator with a specific lever and check its connects with the stator and whether it is stuck or not.
4. Inspect and connect the power cord (three-phrase ALTERNATING current, 380V, grounding protection of the body)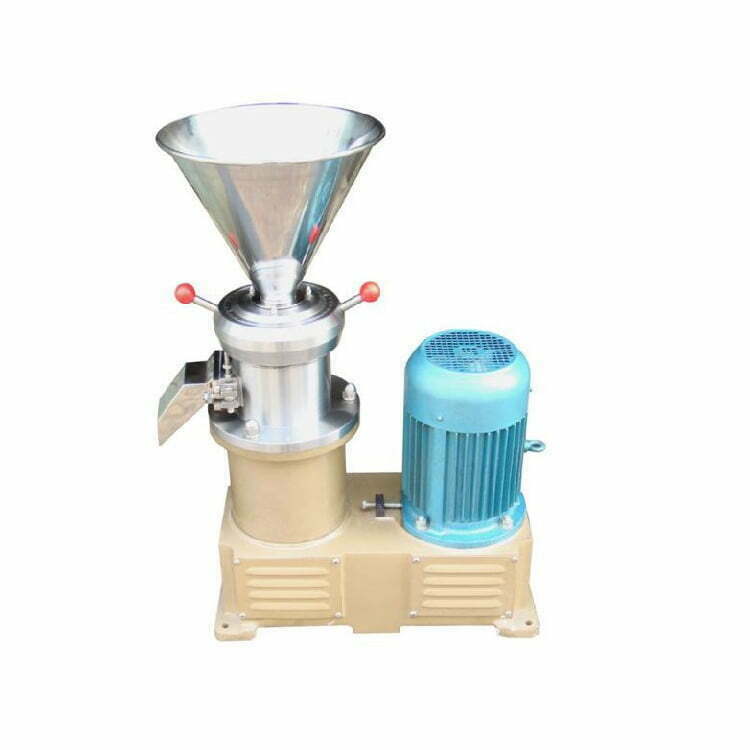 5. Make sure that the moving direction of the rotor is consistent with the base arrow (clockwise rotation)
6. Connect cooling water and pay attention to the inlet and outlet watermark of the nozzle.
7. Before starting the motor, inch the switch and examine whether there is abnormal noise and vibration.
8. Fill butter cup with oil regularly.
9. Notice the requirement for raw materials.
A: Only wet processing. No dry solid materials.
B: Clear away debris in any form before grinding.
Hard objects such as broken glasses, iron, metal shavings, and gravel particles are strictly prohibited from entering the grinder to prevent damage to the machine. In the event of an abnormal operation, you should immediately stop, and troubleshoot.
10. After you use the machine, please remove residuals in the stator and rotor while the machine is working.
11. Clean the inner cavity thoroughly after use or if you do not use it in a short term. It is best to use high-pressure air drying in case of erosion.
12. When unpacking and installing, be careful of seals damages, wrong installation, and loss.
Speciality of Peanut Grinder Machine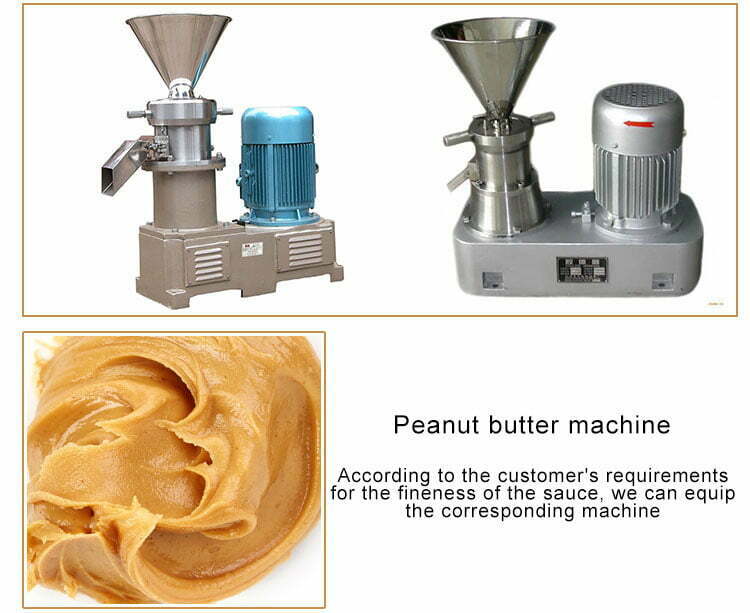 High grinding hardness, productivity, and precision
Advanced dynamic seal design, durable and fine grinding, easy to operate, maintain and repair
All-round services, quality guarantee, and long service life
Working Video of Peanut Butter Grinder Machine
Informative articles about peanut butter
Peanut butter recipes
There are many simple peanut butter recipes, and it is easy to learn the production process. Among the peanut butter recipes, the banana powder peanut butter production process and Flavored Peanut Butter Production Process are two typical ones and deserve to have a try.
If you are interested in a peanut grinder machine, please leave a message on our page and contact us. We'll contact you to send more details and quotation as soon as possible.