The seasoning machine for snacks is designed to add flavor to many kinds of foods in the food processing industry, including fried peanuts, popcorn, french fries, potato chips, banana chips, fruit chips, etc. This seasoning machine snack is also a popular machine in many production lines, like the peanut coating production line, potato chips production line, french fries processing line, etc.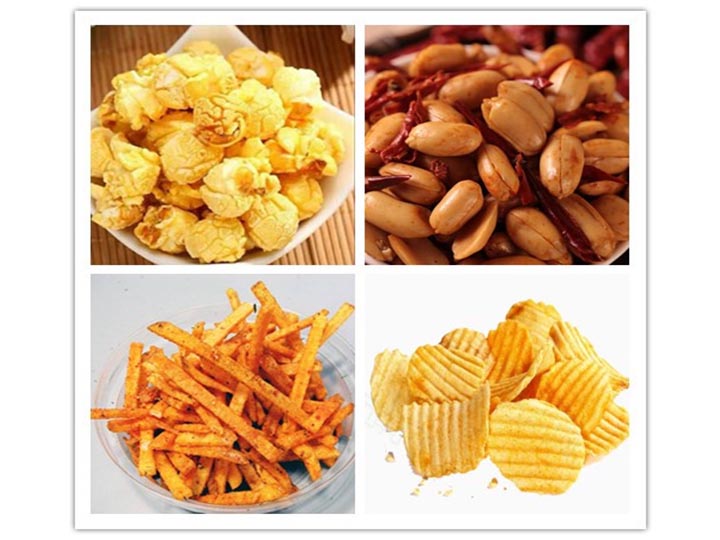 Working video of octagonal seasoning machine
Seasoning machine for snacks working principle
The rotary octagonal blender machine has outstanding features of high automation, uniform mixing, and no breakage. After the seasoning machine for snacks starts, the materials into the drum move evenly and get mixed with the seasoning. During the working process, the food and seasoning powder is always kept in the drum. The design of an inward barrel mouth can well avoid material spilling, increase output and achieve the purpose of uniform mixing. When the flavoring machine discharges the material, the redundant powder and well-flavored products are automatically separated.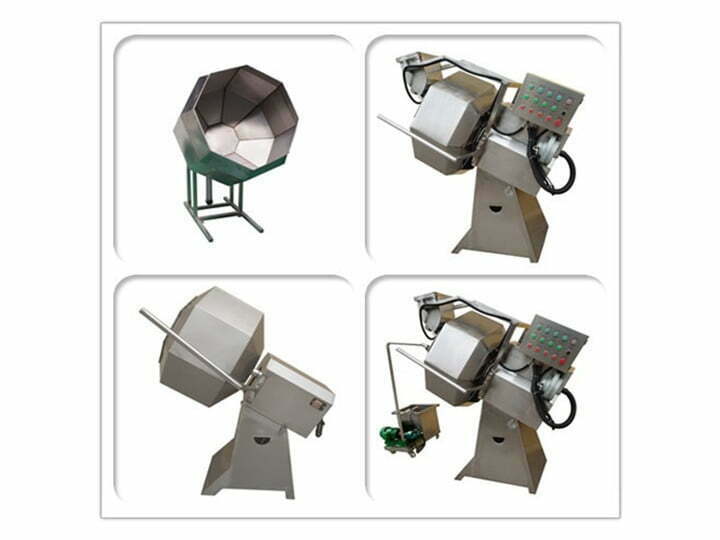 Structure of seasoning machine snacks
The rotary food flavoring machine consists of a mixing tank, the flavoring machine switch, stainless-steel base, cover for protection of the electric motor, and switchboard. The nuts flavoring machine can be equipped with an automatic dusting device and a spraying device.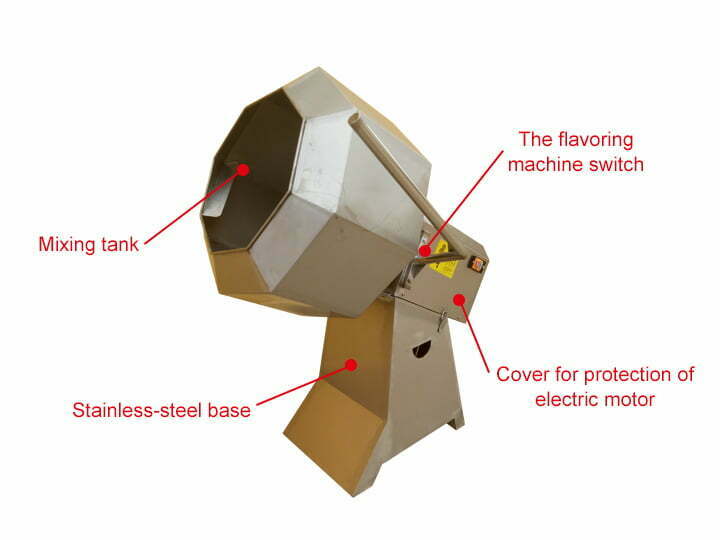 Features of seasoning machine for snacks
Food-grade stainless steel: All made of 304 stainless steel, which meets national health and safety standards.
Uniforming mixing and no stickness. The unique shape design can ensure uniform mixture.
Various models and types: There are two types of fried flavoring machine, and various capacities. They are the roller type and octagonal type. We also support customized service.
Multiple uses: The fried food flavoring machine can flavor fried peanuts, French fries, plantain chips, potato chips in the food processing industry.
High productivity: the general output reaches up to 1500kg per hour. Also, we can customize the machine to meet customers' specific need.
Automatic system: Automatic mixing, dusting, spraying and discharge functions.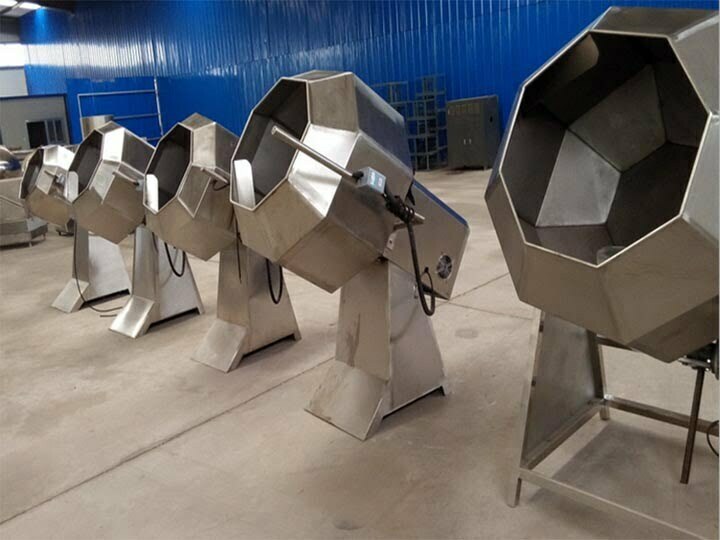 Automatic chips flavoring machine technical data
| | | | | |
| --- | --- | --- | --- | --- |
| Model | Dimension(mm) | Weight (kg) | Power (kg) | Capacity |
| CY800 | 1000*800*1300 | 130 | 1.1 | 300kg/h |
| CY1000 | 1100*1000*1300 | 150 | 1.5 | 500kg/h |
| CY2400 | 2400*1000*1500 | 300 | 0.75 | 1000kg/h |
| CY3000 | 3000*1000*1600 | 380 | 1.1 | 1500kg/h |
parameter
Stock Display of Multiple-Use Flavoring and Mixing Machine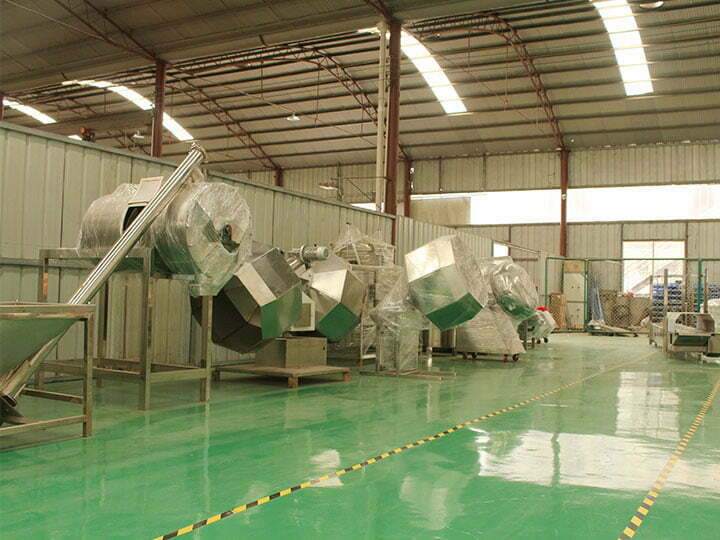 Related article
Another model of flavoring machine
Our company offers another model of seasoning machine for snacks, the fried food flavoring machine. It is also called a continuous seasoning machine with high output.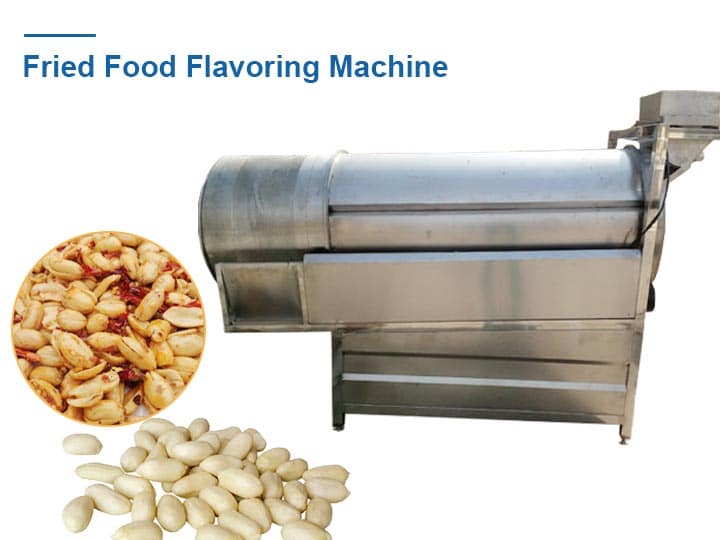 If you would like to know more about the seasoning machine for snacks, please do not hesitate to contact us.