An automatic cashew nut chopper is suitable for cutting quantities of cashew nuts into small particle sizes with roller cutters. As it is often used to cut peanut kernels, the cashew nut chopper is also known as a peanut chopper machine. Featured with uniform cutting, adjustable sizes, high efficiency, the nut cutter machine is popular in the nut processing industry. The cashew nut chopping machine is applicable to restaurants, hotels, cake shops, bakeries, nut processing factories, etc.
Cashew nut chopper highlights
1.Uniform cutting sizes. After chopping and grading, the final cashew nut particles are in similar sizes. The common sizes can reach 1-2mm, 2-4mm, 3-5mm, 4-8mm, or others.
2. High efficiency. The cashew nut chopping machine has outputs reaching 200-400kg/h. For special requirements, we can offer tailored service.
3. Screen can be customized according to customer's requirements.
4. High rate of finished products and low breakage rate.
5. High-quality machine material and long service life.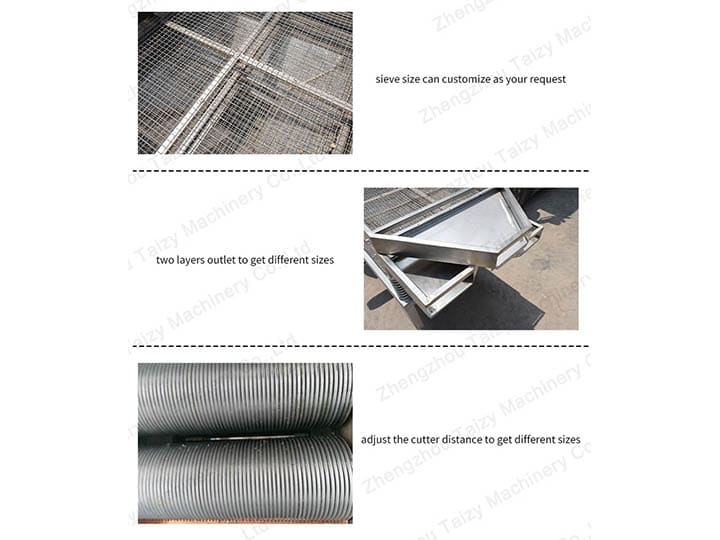 Other application of cashew nut chopper
Apart from cashew nuts, the cashew nut chopping machine can be used to cut other nuts, like peanuts, almonds, walnut, chestnut, hazelnuts, macadamia nut, badam, dates, dried vegetables, and beans into different sizes in the food industry.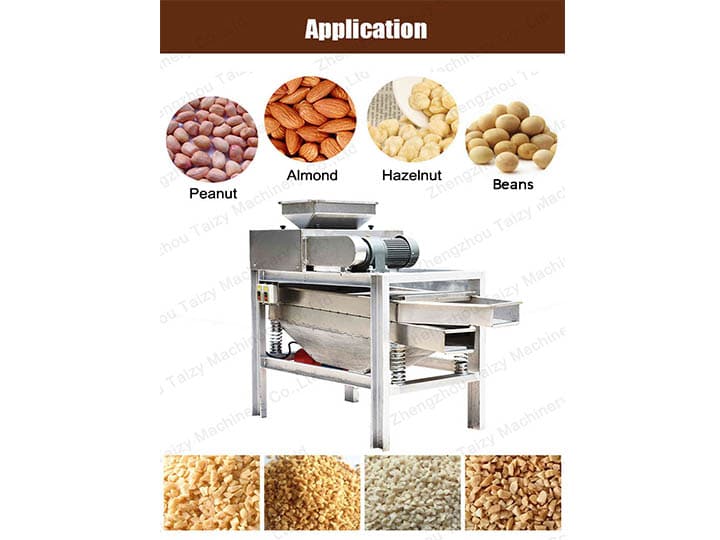 Working process of the cashew nut chopping machine
After the cashew nut kernels enter the feeding port, two roller cutters cut them at a constant speed. There is a scraper in the machine to continuously scrape the residue on the cutter to keep cleanliness. After cutting, the chopped cashew nut kernels move on the vibration screens. The number and specification of screens are equipped based on customers' needs. Each layer of the screen has an outlet at the end. Through the vibration, the chopped cashew nut particles are well sieved and automatically discharged from the outlets. There is another outlet at the bottom of the machine. It is for the small particles.
Parameters
| | | | | | |
| --- | --- | --- | --- | --- | --- |
| Model | Capacity | Voltage | Power | Dimension | Weight |
| TZQL-400 | 400kg/h | 220/380V | 0.93KW | 1.6*0.8*1.5M | 300KG |
| TZQL-300 | 300kg/h | 220/380V | 0.93KW | 1.6*0.8*1.4M | 300KG |
Related article
Hazelnut chopping machine