Our automatic peanut peeling machine has recently been installed in Kenya. This Kenya customer ordered two sets of our groundnut peeling machines, the Model of TZ-09 with the capacity of 20kg/h. The wet peanut peeling machine in Kenya is a wet type machine, which uses the rolling method to remove the peanut skin. The peanut skin remover has the advantages of easy operation, high output, high peeling rate, stable performance, long service life. The peanut peeler machine is suitable for processing peanuts of various specifications. The peeling rate is above 98%, and the peanuts after peeling are complete and white in color. Peanut skin and kernel are separated automatically. The wet peanut skin peeling machine is widely used, suitable for almond, soybean, chickpea, broad bean, etc. Advanced wet peanut peeling equipment is favored by a large number of global customers engaged in peanut processing business.
Peanut peeling machine in Kenya introduction
Our wet type peanut peeling equipment is designed to remove the peanut skins with high peeling rate, high productivity and low splitting rate. Compared with dry type peeling method by a dry peanut peeler, this method can keep the peanuts with original color and higher degree of completeness of kernels. Our Kenya customer is engaged in peanut snacks processing industry, and planned to make fried complete peanut kernels snacks without red skins. After watching our video on YouTube, he was interested in it, and send us a message. Our sales representative instantly got in touched with him to know about his specific demand, and sending him the quotation, machine specifications and demo of the recommended machine model: TZ-09. Quite satisfied with the machine, our customer placed an order of two sets as well as some additional spare parts. The following is the general technical data of the machine.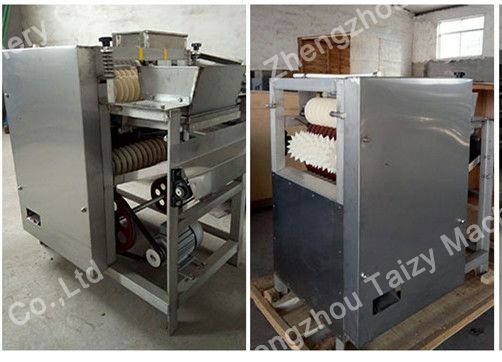 Model: TZ-09
Power: 0.75kw
Capacity: 200-250kg
Size: 1.18*0.85*1.1m
Weight: 180kg
Spare part: one set blade
Machine material: 304 stainless steel
Why to choose this wet peanut peeler machine?
Suitable for processing various specifications of peanuts, as well as almonds, soybeans, chickpeas, broad beans, etc.
The peeling rate is very high and the peeling effect is excellent. The peeling rate is above 98%, and the peanut after peeling is intact and undamaged, with white color, no browning on the surface and no denaturation of protein.
Peanut skin and kernel are automatically separated, which is highly efficient.
High automation program, high output, low noise, no pollution.
Made of food-grade stainless steel. It meets the food safety requirements of food processing.
Competitive price and cost-effectiveness. This groundnut peeling machine is affordable with multiple functions, bringing quick return.
The peanut peeling machine in Kenya can be used alone or in production lines. It is widely used in the pre-processing of fried peanuts, coated peanut, peanut powder, and peanut butter and other products.
How does the peanut wet peeling machine operate?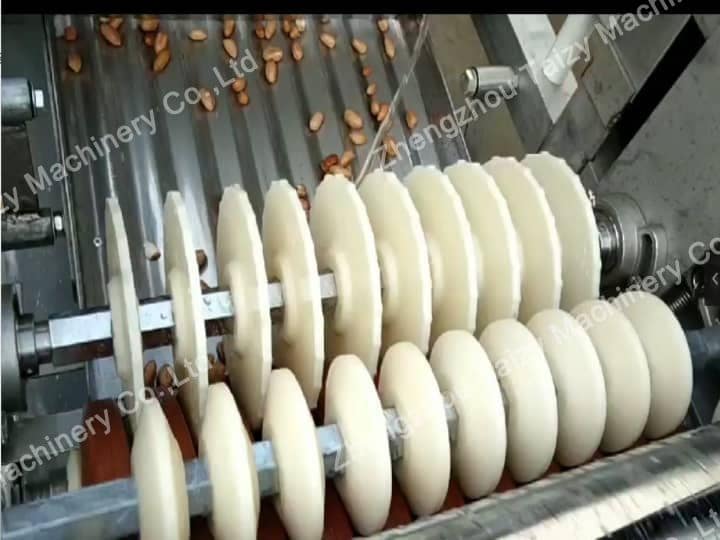 The soaked peanut kernes are firstly poured into the hopper of the peanut peeling machine in Kenya. After vibration, the raw material enters the rotating rubber wheel fixed by three power rollers. Through the action of inducing strip and feeding wheel, the peeling is achieved by imitating manual twisting wheel. Then the discharging wheel presses the peanuts after peeling into the discharging hopper and discharges them in the outlet, and the outer skin is thrown out through the flaking wheel.
Taizy Machinery is an experienced nut processing machine manufacturer, with diverse peanut processing equipment and numerous customers from around the world. Our company provides advanced machinery at factory price and offer comprehensive services from pre-sale to after-sale phases. If you have an interest in our machinery, please do not hesitate to contact us for machine details and favorable prices.