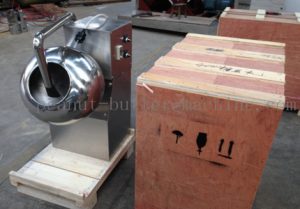 ntroduction:
This peanut coating machine is made of stainless steel .It is a special equipment for wrapping the surface of peanuts. The surface of the processed peanuts is smooth and meets the export processing standards. It has the characteristics of stable rotation, low noise, no pollution, etc. The peanut coating machine  can make fish skin peanuts, chocolate peanuts, multi-flavor peanuts, Japanese beans, full mouth, crispy fruit, shrimp crisp beans, spicy beans, dinosaur eggs, etc.
Features:
All made of stainless steel
convenient to wash and maintain
Regular coating.
Structure principle:
The peanut coating machine is composed of the main body, gear box, sugar coating pot, heating device, fan, electric appliance etc. It is driven by the electric motor through the V-belt to drive the worm wheel, the worm, and the sugar coating pan to rotate, and under the action of centrifugal force, the material is in the pot.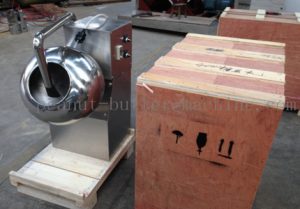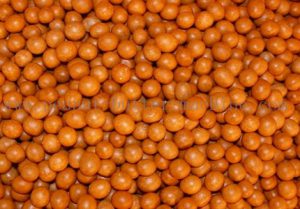 Technical data
| | | | | | |
| --- | --- | --- | --- | --- | --- |
| Model | SL-300 | SL-400 | SL-600 | SL-800 | SL-1000 |
| capacity(KG/time) | 2-3 | 3-5 | 15-30 | 30-50 | 50-70 |
| diameter(mm) | 300 | 400 | 600 | 800 | 1000 |
| speed(r/min) | 46 | 35 | 35 | 35 | 31 |
| angel(degree) | 15-45 | 15-45 | 15-45 | 15-45 | 15-45 |
| Main power(kw) | 0.37 | 0.37 | 0.55 | 1.1 | 1.1 |
| Heating power(w) | 300 | 600 | 1000 | 2000 | 2000 |
| weight(kg) | 40 | 50 | 70 | 280 | 330 |