Why Is the Fried Peanut Deoiling Machine Vital?
The Deoiling Machine tends to exercise power in conjunction with the Frying Machine.
On the one hand, Fried food usually contains too high fat and oil. Too much oil and fat is bad for the taste and flavor of ultimate fried food. Therefore, a deoiling machine is in urgent need.
On the other hand, in the food processing industry, sometimes water is always necessary. The dewatering machine is applied in getting rid of excessive water for longer shelf life.
Hence, the fried food deoiling machine plays an important role in the Fried Peanut Production Line. The fried peanut oil removing machine is to extract extra oil produced in the step of frying.
Fried Food Dewatering Deoiling Machine Introduction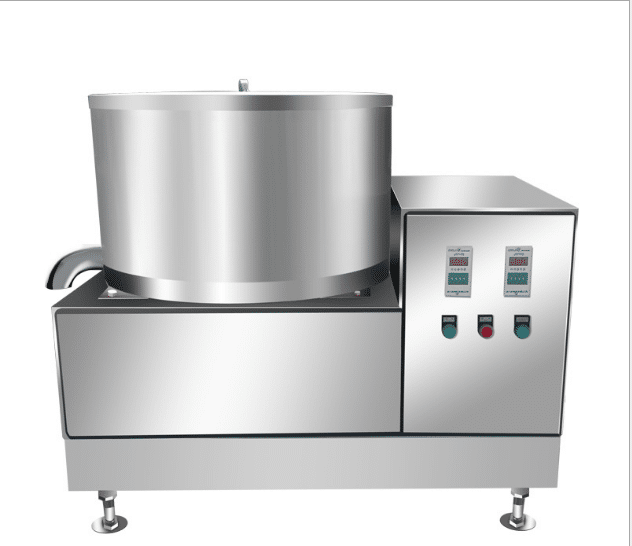 The deoiling machine is made of 304 stainless steel. It's mainly used in fruit and vegetable processing industry for processing fruits and vegetables. This machine is suitable for units or individuals that require dehydration or oil removal.
Oil Removing Machine Working Principle
The deoiling machine makes the centrifugal Movement. The electric motor drives the inner-tank to rotate at extremely high speed. The moisture in the dehumidifying material splashes under high-speed rotation so as to realize achieve dehydration.
Fried Food Deoiling Machine Technical Parameter
| | | | | |
| --- | --- | --- | --- | --- |
| Model | Dimension(mm) | Weight(kg) | Power(KW) | Capacity(kg) |
| SL-400 | 1000*500*700 | 360 | 1.1 | 300 |
| SL-500 | 1100*600*750 | 380 | 1.5 | 400 |
| SL-600 | 1200*700*750 | 420 | 2.2 | 500 |
| SL-800 | 1400*900*800 | 480 | 3 | 700 |
Peanut De-oiling Machine Main Parts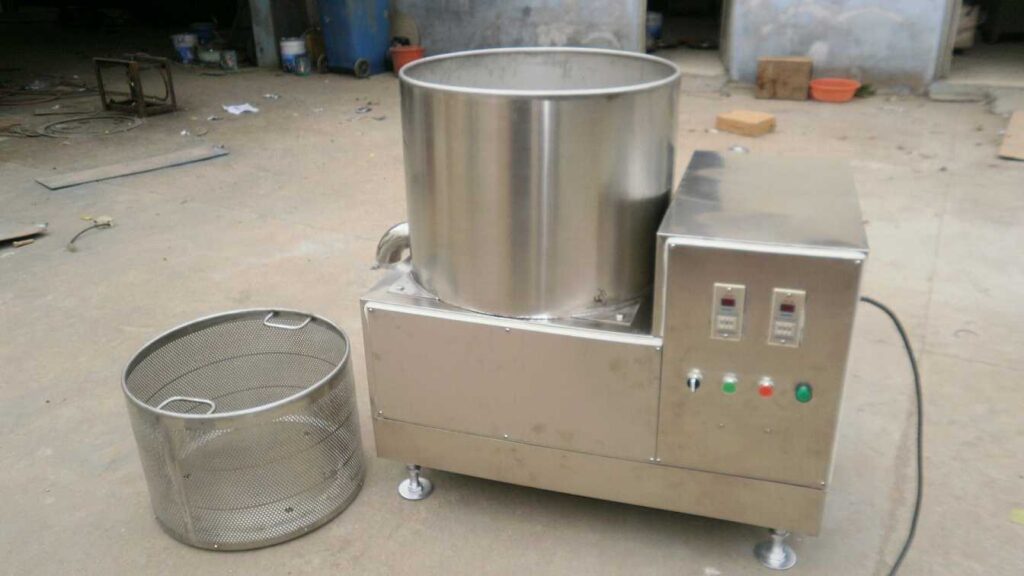 (1) The deoiling machine is made of shockproof-type rubber. Due to the unbalanced load in the drum, the vibration of the foot can be avoided when running.
(2) The shell is made of stainless steel plate.
(3) The base plate material is cast iron. The outlet pipe is located on the side of the barrel while the base and the column foot material is cast iron.
(4) The spindle is made of stainless steel equipped with two bearings.
(5) The deoiling machine adopts the timing controller to adjust the working time. Working hours can be set freely according to the raw material dehydration time.