An automatic peanut brittle machine is to produce candied roasted peanut snacks. The peanut candy production line mainly contains 6 machines, a peanut roaster machine, a peanut peeling machine, sugar melting machine, a peanut brittle forming and cutting machine, a peanut brittle mixing machine, peanut candy packing machine. The peanut brittle making machine has wide application, suitable for making sesame seed peanut candy, sesame bar, peanut chikki, granola bar, snack bar, energy bar, protein bar, etc. The automatic peanut brittle production line is featured with high automation and output, uniform shape of the final product, reasonable structure, simple operation.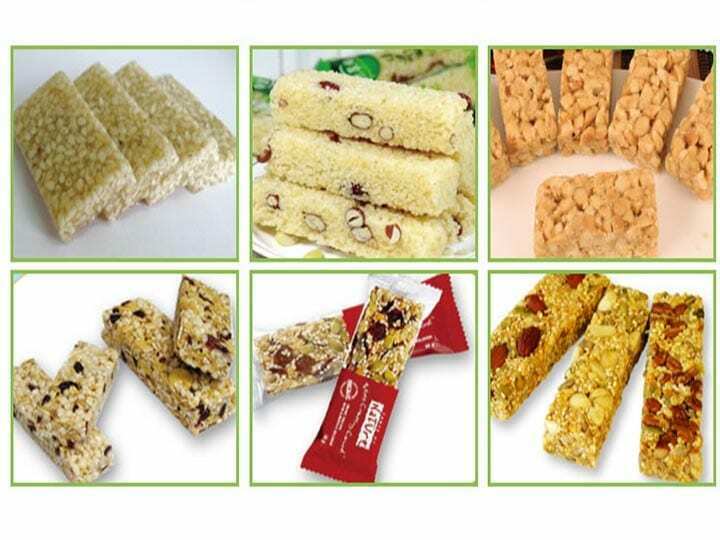 Peanut candy production line advantages
Highly automatic and labor-saving
Uniform and adjustable product sizes and shapes
Stable and continuous operation and high yield
Easy to operate and maintain
Wide application. Suitable for various candied snacks with nuts or seeds
Customized service available.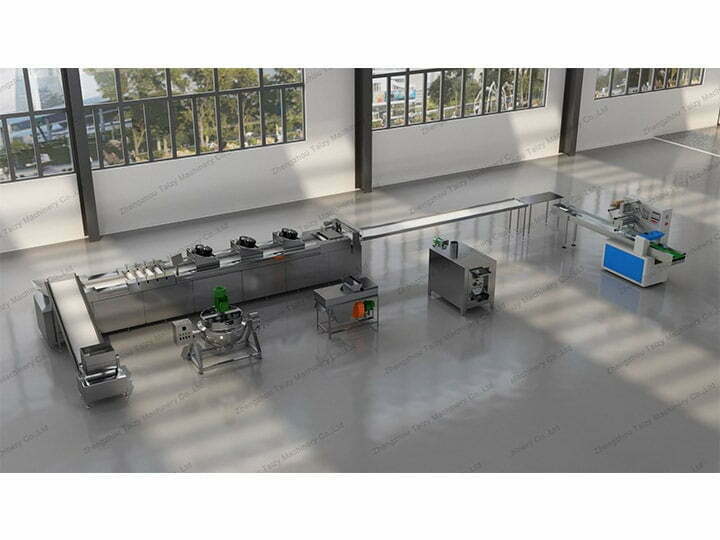 Video of peanut candy cutting machine
What machines are included in the peanut candy bar production line?
The peanut brittle processing line mainly includes the peanut roaster, a peanut peeler, a sugar cooking machine, a peanut brittle forming and cutting machine, a peanut candy mixing machine, and a peanut candy wrapping machine, as well as auxiliary equipment.
1. Peanut roaster machine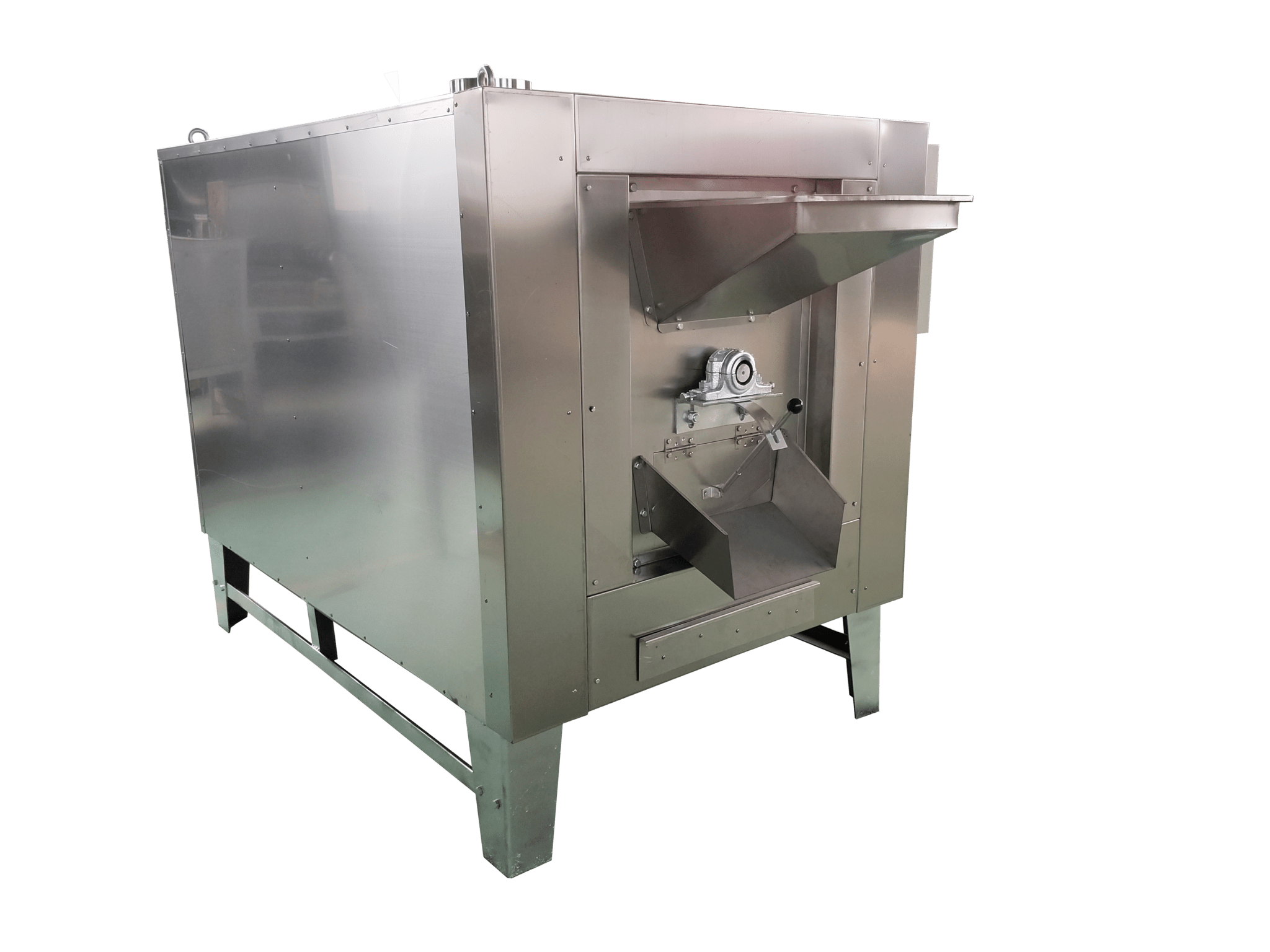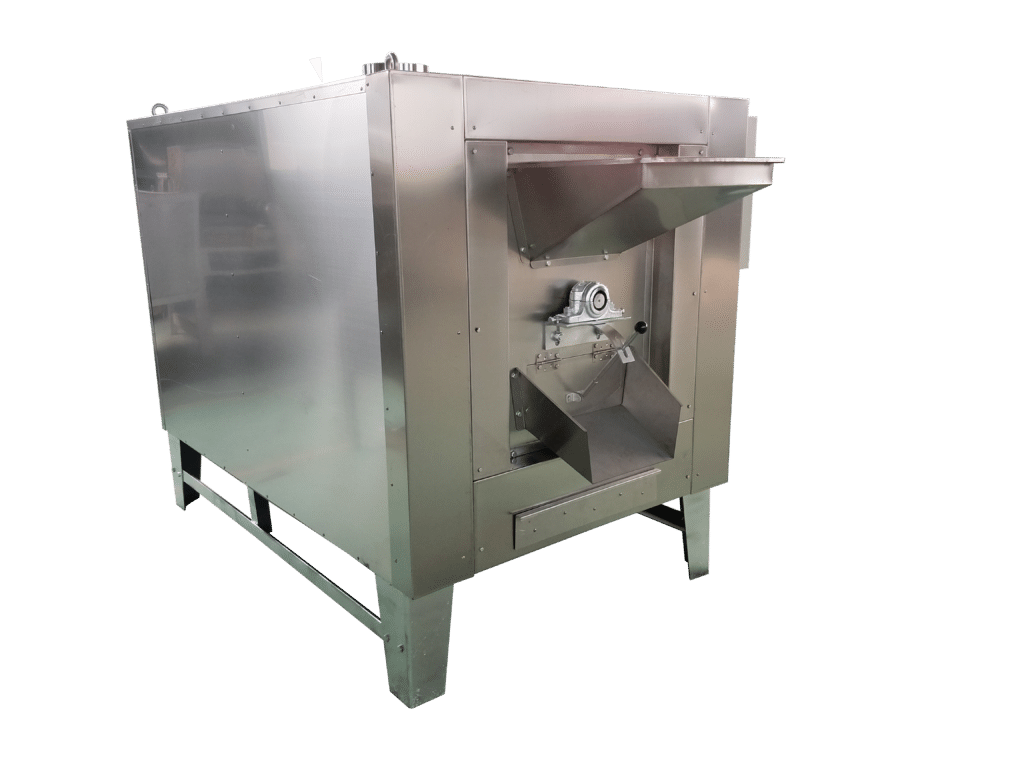 The peanut roaster machine is designed to roast peanuts and other nuts or beans, like almonds, cashew nuts, walnut, chestnut, sesame seeds, cocoa beans, etc. The advanced drum structure can enable the machine to heat materials evenly and efficiently, with an output of up to 1000kg/h.
2. Peanut peeling machine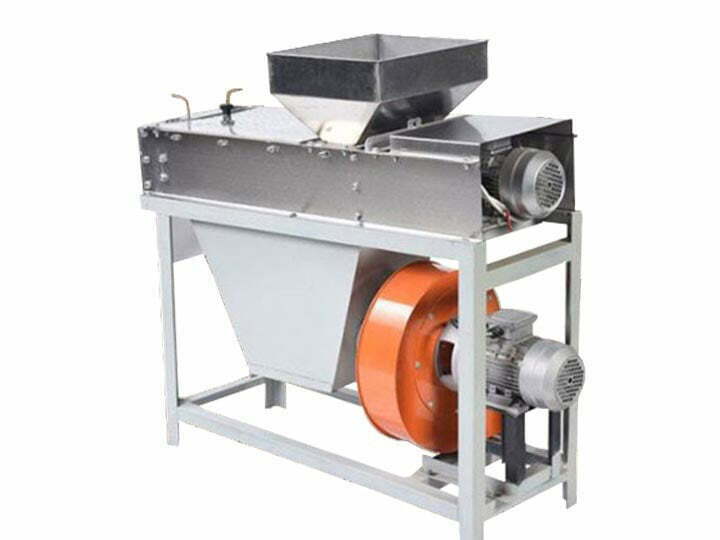 The roasted peanut peeling machine is to remove the red skins of peanut kernels. It has a high peeling rate and low breakage rate. The output can be from 200-1000kg per hour.
3. Steam-jacketed kettle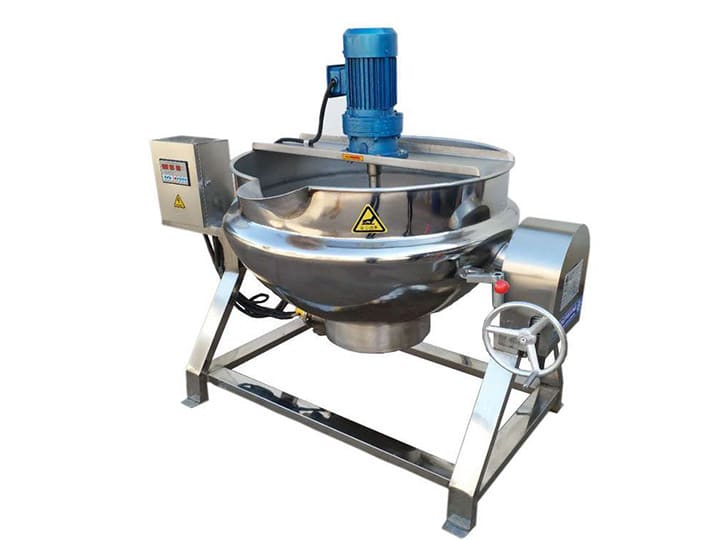 To make peanut candy, syrup is an essential ingredient. A steam-jacketed kettle, also known as a syrup cooking pot, is to melt sugar for making syrup. It has a double-layer structure with inner and outer spherical pot bodies.
The sugar melting pot has the characteristics of a large heating area, uniform heating, high thermal efficiency, various heating methods, easy operation, and a tilting function. The general structure contains a mixing rod, cover, pot body, motor, thermometer, hand wheel, control cabinet, etc. The thickness of the pot is 3mm and the popular volume ranges from 100 to 600L. The finished product can be discharged easily. The sugar melting pot is widely used in the processing of all kinds of food, and can also meet the needs of large restaurants or canteens for cooking sauce, soup, stew, porridge, and so on.
Parameter of steam-jacketed tilting kettle
| | | | |
| --- | --- | --- | --- |
| Model | diameter(mm) | Inner layer thickness(mm) | outer layer thickness(mm) |
| 100L | 700 | 3 | 3 |
| 200L | 800 | 3 | 3 |
| 300L | 900 | 3 | 3 |
| 400L | 1000 | 3 | 3 |
| 500L | 1100 | 4 | 3 |
| 600L | 1200 | 4 | 3 |
| 800L | 1300 | 5 | 4 |
| 1000L | 1400 | 5 | 4 |
parameter
FAQ
Can you add a cover without the mixing device?
Can the mixing motor be changed to 110V?
What are the heating sources?
Electricity, natural gas, liquefied gas, biogas, steam.
How much heat transfer oil does a 100L electric heating model need?
What is the machine material?
304 food-grade stainless steel. can be customized.
4. Peanut brittle mixing machine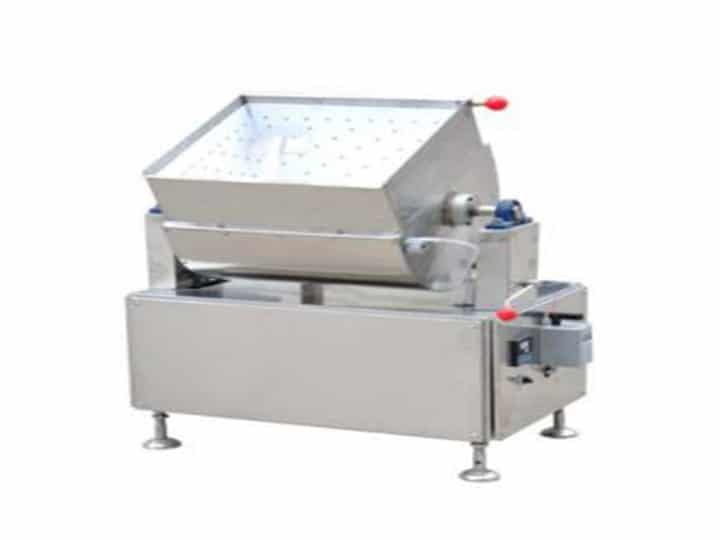 A mixing machine is to mix the syrup with other materials, especially nuts and seeds, like peanuts, cashew nuts, almonds, walnuts, sesame seeds, sunflower seeds, etc.
The mixer machine has the features of heat preservation effect, temperature control system, corrosion resistance, high-temperature resistance, non-adhesion, etc. It is also convenient to discharge the products.
Technical data of mixing machine
| | | | |
| --- | --- | --- | --- |
| Model | TZ-100 | TZ | TZ |
| Voltage | 380V/50hz | 380V/50hz | 380V/50hz |
| Power | 1.1kw | 1.1kw | 2.5kw |
| Size | 700*800*1200mm | 700*500*1400mm | 960*600*1200mm |
| Capacity | 10kg/batch | 15kg/batch | 50/batch |
technical parameter
5. Ascension conveyor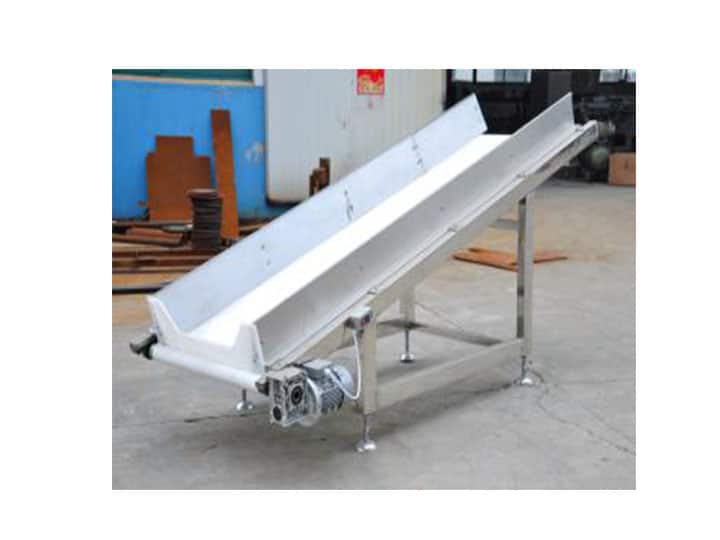 The lifting conveyor is to lift and send the material processed by the mixing machine to the automatic cutting machine. The surface is stainless steel and the conveyor belt material is PVC. The general size is 2500*820*1080mm.
6. Peanut brittle forming, cutting and cooling machine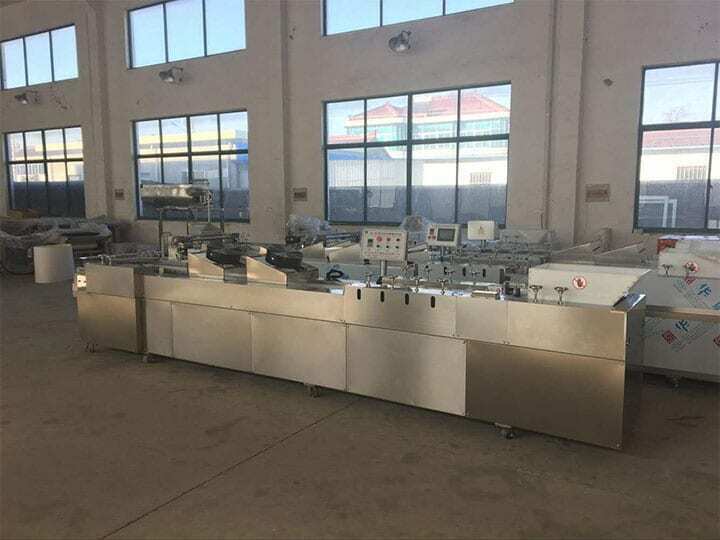 The peanut brittle machine integrates the functions of mixing, forming, cooling, and cutting. It is applicable to a wide variety of snack foods, like peanut candy, puffed rice candy, cereal bar, sesame candy, granola bar, energy bar, protein bar, chikki, and caramel treats, etc.
The peanut brittle forming and cutting machine is an important part of the peanut candy production line. It can form the peanut candy into a rectangle, square, round, or other shapes.
Highlights of peanut brittle machine
Multiple and integrated functions.
The peanut brittle forming and cutting machine firstly stirs the raw materials and its pressing roller presses sticky raw materials into a flat shape. Then, the 3 fans immediately cool the peanut candy for a better cutting effect in the following procedure. The peanut brittle machine has a cross cutter and several vertical cutters to cut the whole materials into expected sizes.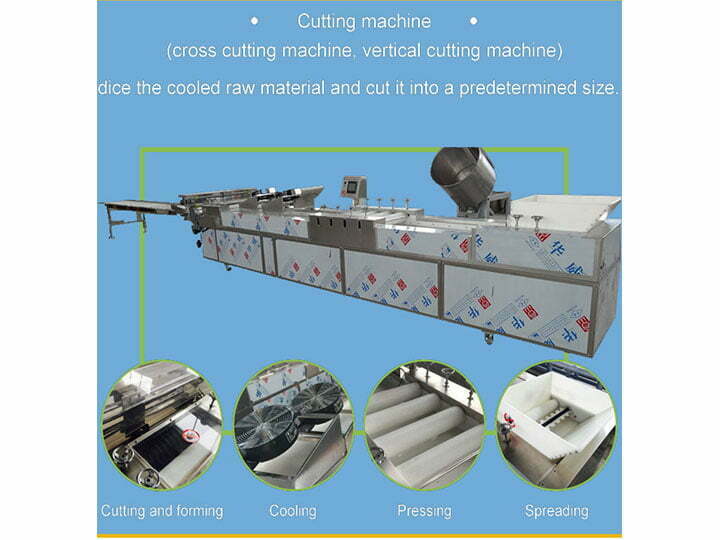 The conveyor belt's width is 560mm. A cross cutter and a set of verticle blades cut the materials on the conveyor into different lengths and widths. The speed of the conveyor is changeable to cut the materials into different lengths. The width of the material depends on the number of vertical blades, which can be customized based on special needs. The thickness of the raw material is adjustable by using handwheels on both sides to change the heights of the rollers. Besides, we have another type of peanut brittle forming machine, called a rotary table forming machine. It has various molds that can form the materials into round, cylinder, spherical or other shapes.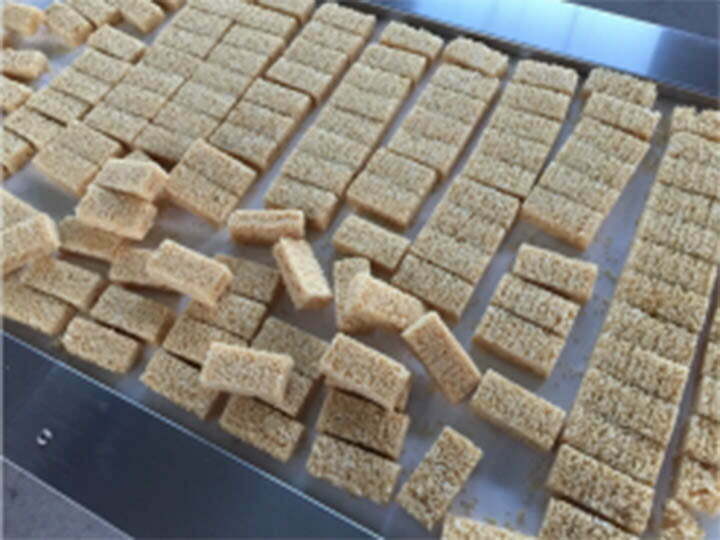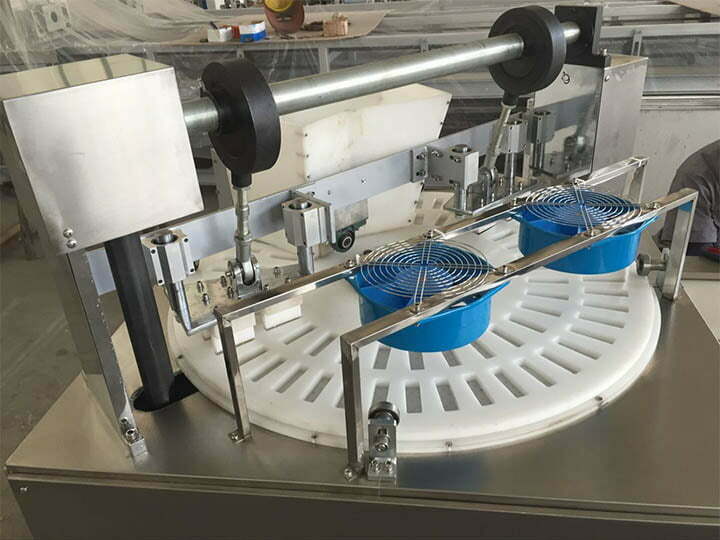 The conveyor belt material is PVC, and the machine is made of stainless steel. The peanut brittle machine is quite hygienic, meeting food safety standards.
Parameter
| | | |
| --- | --- | --- |
| Model | TZ-68 | Cooling conveyor |
| Power | 2.5kw | 0.37kw |
| Motor | 380V, 50hz | 380V/220V |
| Size | 6800*1000*1200mm | 5000*1000*800mm |
| Belt width | 560mm | |
| Weight | 1000kg | |
| Capacity | 300-400kg/h | |
parameter
7. Peanut candy packing machine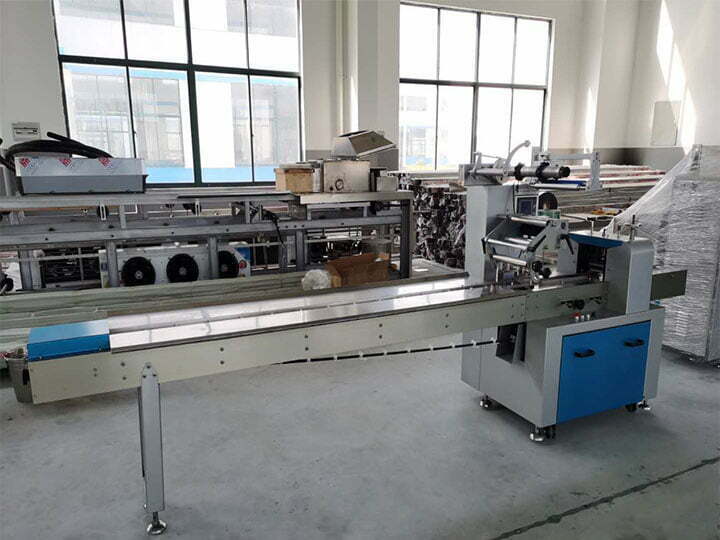 The final step of the peanut candy production line is the packaging of final products. Our pillow-type packing machine is suitable for packing various foods and is widely applied in the food processing lines. The packing speed is 50-300pcs/min.
Related articles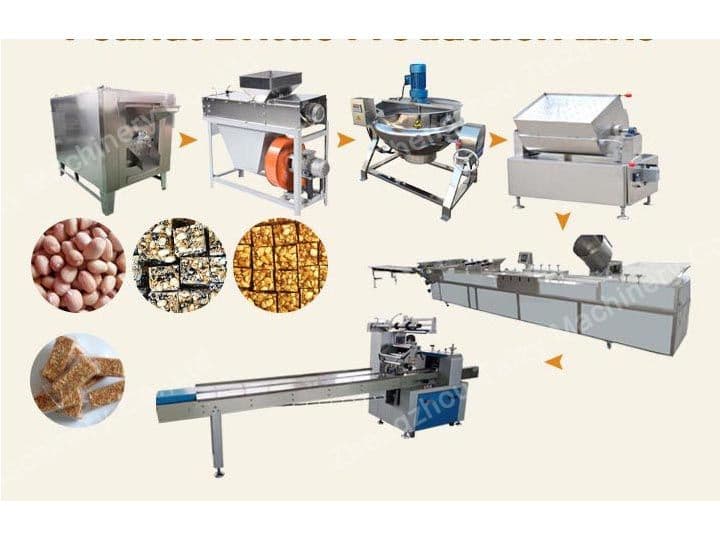 How to make peanut brittle with the peanut bar making machine?
Peanut bar making machine realizes a series of processing steps from peanut kernels to packed peanut candy. Here is the production process.
Export cases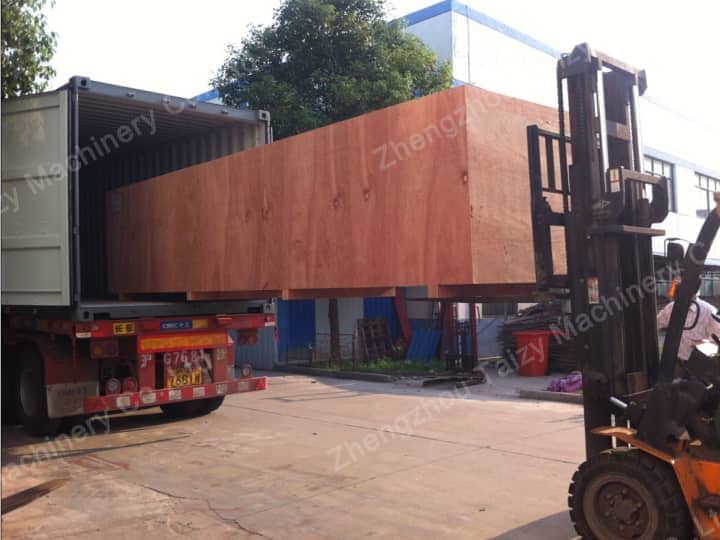 New peanut brittle making machine has been sent to the USA!
Peanut brittle making machine is highly efficient and convenient. We have sent the machine to the United States and many other countries.
For more details about our peanut brittle machine, welcome to contact us directly.