The peanut brittle making machine is used to produce peanut candy, sesame candy, energy bar, granola bar, protein bar, and many other nut desserts. The peanut brittle production line mainly includes six machines, namely a peanut roasting machine, peeling machine, sugar cooking machine, mixer, peanut candy forming cutting machine, and packing machine. The peanut candy processing equipment can complete the operation from raw materials to finished products at one time under the premise of high automation. Peanut candy bars are popular in many countries. Our peanut candy making machines are sold to many countries, including the United States, Australia, Thailand, Myanmar, Iran, Iraq, India, Bangladesh, Pakistan, Ethiopia, and so on. Recently, we have delivered a peanut brittle processing line in the USA.
What are the advantages of a peanut candy making machine?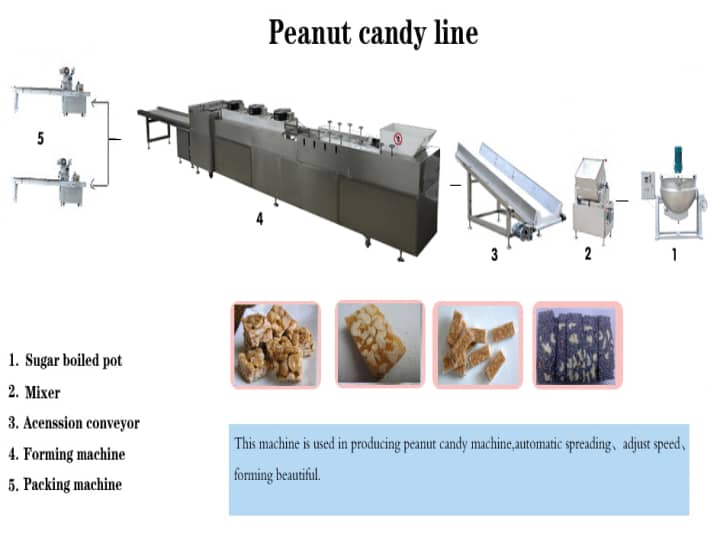 The complete set peanut candy bar processing plant has a high degree of automation. It is equipped with frequency conversion speed control and has a large production volume.
This production line is ideal equipment that can help customers reduce equipment costs and produce high-quality peanut candy.
Excellent cutting and forming effect and adjustable sizes based on customers' needs.
The material of the peanut brittle machine is food-grade stainless steel, which is beautiful in appearance and hygienic.
Reasonable structure, simple operation, and convenient maintenance
Wide range of uses, suitable for many kinds of snacks, such as peanut candy, peanut chikki, sesame candy, energy bar, protein bar, granola bar, and cereal bar.
Order details of the peanut brittle making machine in the USA
Our customer from the U.S. decided to start a peanut brittle business. Peanut candy is quite popular in his country and has promising market prospects in his local place. He wanted to have a peanut brittle making machine with high automation to make high-quality and diverse products. When he saw our peanut brittle machine on the website, he got interested in the high automatic performance, beautiful appearance of final products, and multiple functions. After contacting us, he knew about the machine catalog, specification, quotation, and specific working process from our sales representative. Our rich export experience, mature production technology, and integrated services left him with a great impression. Finally, he signed a contract with us. The following are the technical data of two main machines of the peanut brittle making machine in the USA.
Peanut brittle forming and cutting machine
Model:TZ-68
Power:2.5kw
Motor: 380v,50hz
Capacity:300-400kg/h
Size:6800*1000*1200mm
Weight:1000kg
Cooling conveyor
Voltage:380V/220V
Power:0.37kw
Size: 5000*1000*800mm
Material: The surface is stainless steel; the conveyor belt material is PVC
The length of the forming and cutting machine is 6800mm and the belt width is 560mm. The width of products can be adjusted from 30mm,40mm, and 60mm and the thickness is also adjustable, including 6mm, 8mm, and 10mm. The length of the cooling conveyor is 5000mm.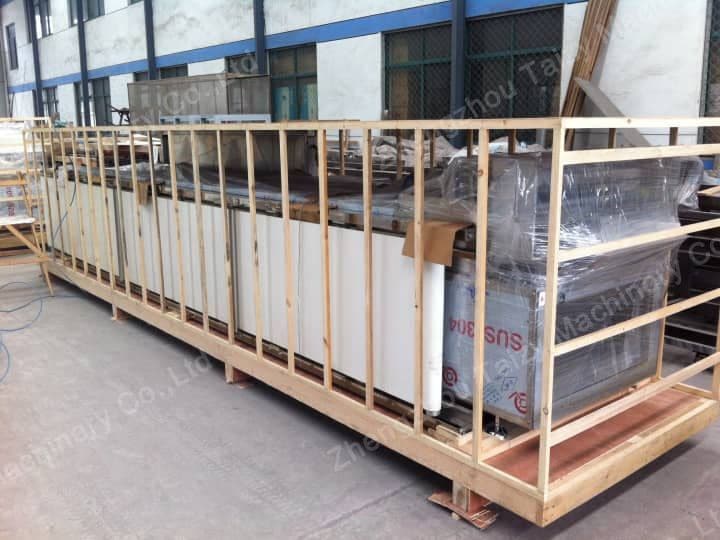 As a peanut brittle making machine manufacturer, we offer a series of machine models to meet different needs. Also, we provide tailored services to meet individual demands. Our customers can receive guaranteed products and one-stand services. Welcome to contact us for a favorable quotation and specialized advice.