An automatic cocoa paste making machine is very popular among our customers in many countries. The cocoa paste production line is used for making the fine cocoa paste from raw cocoa beans, mainly involving a roasting machine, peeling machine, and grinding machine. The cacao paste production line dopts advanced technology with the features of high output, a high degree of automation, hygiene, and ultra fineness of final products. Recently, we have shipped a 300kg/h cocoa paste making machine to a customer in the USA. The cocoa paste making machine in USA has been installed in the country and performed very well.
Processing steps for making the cocoa paste
The following is a general introduction to the main processing procedures of cocoa paste making machine in USA.
Removing impurities from cocoa beans: if the raw cocoa beans are not clean enough, it is needed to use a wind stoner to take out stone and dust.
Roasting cocoa beans: a cocoa roaster machine is used to roast the beans and prepare them for dry peeling.
Peeling cacao beans: the roasted cocoa beans can be peeled by the cocoa peeling machine. The cocoa shells and cocoa nibs are efficiently separated, obtaining pure cocoa nibs.
Grinding the cocoa nibs: a cocoa bean grinder can grind cocoa nibs into cocoa paste with high fineness.
Mixing, degassing, and storing the cocoa paste: the pure cocoa paste can be mixed with sugar, salt or other materials to add different tastes and enrich its flavor. Then cocoa paste can be degassed for better preservation and storage.
Filling and packing cocoa paste: the final step is to fill and pack the final cocao paste with a filling machine and packaging machine.

Cacao paste production line advantages
High finessness of final product. The fitness of cocoa paste is adjustable, generally reaching 120-150 mesh. The combined cocoa bean grinder can make paste of higher fineness.
Hygienci and food safety. All parts in contact with the food of the cocoa paste making machine in USA are made of high-strength food-grade stainless steel.
Large output and automatic productions. The cocoa paste production line realizes automatic production with the capacity reaching 100-1000kg/h.
Customizable services. The specifications including machine voltage, size, materials, and others of main machine, supporting equipment and spare parts can be customized based on customers' demands.
Order details of cocoa paste making machine in USA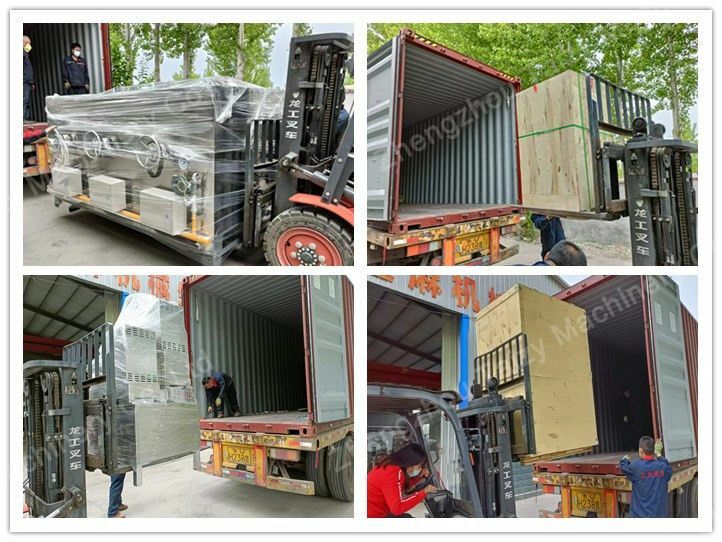 In recent month, a customer from the USA ordered a cocoa liquor production line. Cocoa liquor is the solid form of cocoa paste. This customer runs a cocoa processing factory and intended to start cocoa paste production business. He wanted to make flavored cocoa paste and sold them to the distributors.
In the communication with this customer, our sales representative firstly knew of his expected capacity, the quality of the final product, and recommended the TZ-300 machine series to him. This cocoa paste making machine in the USA mainly includes a roster machine, cooling belt, peeling machine, grinder machine and supporting machine like hoist, convoyer, picking table. In terms of specific requirement, he wanted to change the machine voltage and frequency to 240V, 60HZ, so we customize the machine to meet his needs.
Item name
Picture
Technical data
Electric roaster with front belt
  
Model: TZ-300
Capacity:280-350kg/h
Motor power: 3.3kw
Heating power: 45kw
Voltage: 240v,60hz, 3phase
Dimension: 2950*2900*1750mm         
Cooling belt
 
Power:8.1KW
Dimensions:6000*1200*1600mm 
Weight:600kg
Peeling machine
 
Power: 3KW
Dimensions: 2000*800*1650mm 
Weight:500kg
Grinding machine
 
Model:TZ-300
Power: 22kw
Size: 1250*550*1100mm
Voltage: 240v,60hz, 3phase
Weight: 550Kg
Output: 300kg/h
Besides the main machines, he also ordered several tanks, pumps, hoists, and other auxiliary equipment. During the negotiation, our machine quality, comprehensive serives and professional advice left him a good impression and promoted him to place the order soon.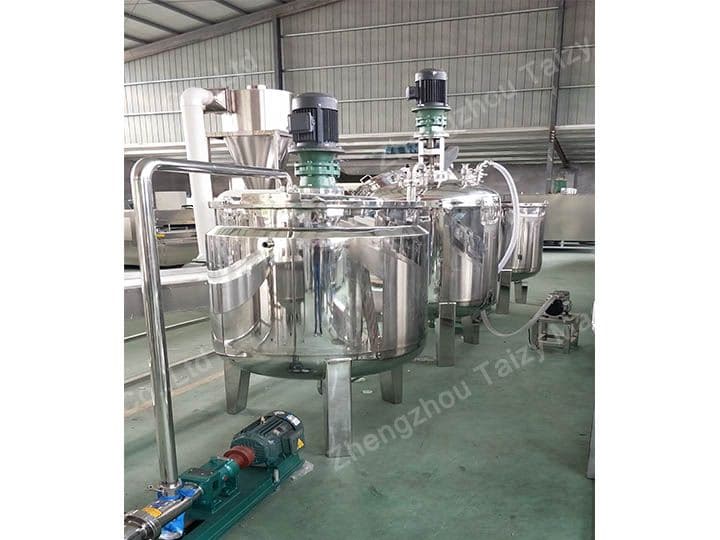 Application of the cocoa paste
Cocoa paste has wide applications and there are a great number of cocoa paste lovers. The cocoa paste business has a broad prospect in the food and beverage industries. The cocoa paste can be matched with a variety of drinks or beverages such as milk, milkshakes, and ice cream to add a strong chocolate flavor. Various sorts of baked food and cocoa paste also are also very good partners. Typical examples are adding cocoa paste to cakes, cookies, bread, biscuits, and bread to make a distinctive flavor.