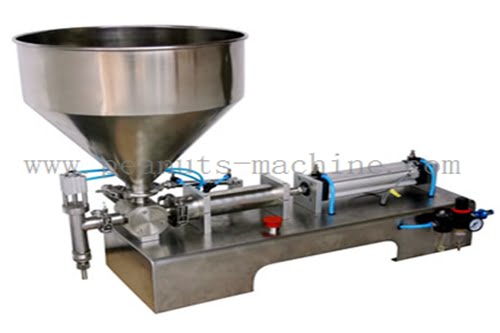 Introduction:
This peanut paste filling machine adopts foreign advanced filling machine technology. Its structure is more simple and reasonable, with high precision and simple operation. The filling amount and filling speed is adjustable. and the filling precision is high. Filling bulkheads are equipped with anti-drip, anti-drawing and lifting filling devices. This series of peanut paste filling machine includes single head, double head and explosion-proof type. The double head can be adjusted freely and used alone. (Can be customized)
Application:
The peanut paste filling machine is suitable for medicine, daily chemicals, food, pesticides and special industries. It is an ideal equipment for filling high viscosity fluids and pastes.
Features:
1, semi-automatic piston type
2, All 304 stainless steel with high quality
3, pneumatic components from Germany FESTO and Taiwan AIRTAC.
4, Filling bulkheads are equipped with anti-drip and upgrade filling devices.
Parameters:
Model
SL-100C
SL-300C
SL-500C
SL-1000C
SL-2000C
SL-5000C
Type
Pneumatic, semi-auto
Filling Range
10-100ml
30-300ml
50-500ml
100-1000ml
200-2000ml
500-5000ml
Filling Speed
10-20 bottles/min
Size(cm)
86*23*24
86*23*24
90*23*25
95*27*29
105*27*30
125*27*35
Net weight
22KG
25KG
30KG
35KG
40KG
45KG
Application
Liquid and paste such as shampoo, oil, honey, toothpaste, face cream, ink, paint, yogurt etc.
Note
You can choose a suitable model according to your product and filling range. We will equip a hopper or a tube for the machine accordingly.